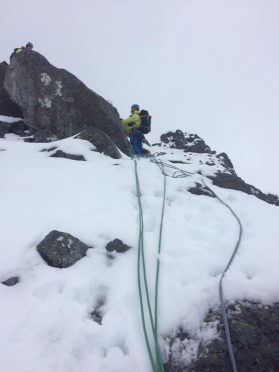 Lochaber Mountain Rescue Team was called out to a walker with a recurring back injury that flared up at around 2,000ft on the UK's highest mountain.
The man, who was in his 30s and a visitor to the area, was walking with another man when he realised he could not descend Ben Nevis and called 999 at around 10am on Sunday.
Team leader John Stevenson said the pair were on Tower Ridge when they called for help.
Mr Stevenson said: "His mate was trying to help, but it was obvious he was not going to get down without assistance.
"We called the team out and the Inverness-based helicopter Rescue 951 started lifting some of our boys up onto the ridge.
"However, he was still in the cloud, so we had to climb up through the cloud to reach him.
"We then lowered him down below the cloud level and the rescue helicopter managed to airlift him off the hill."
He added that the helicopter then returned to pick up team members.
Mr Stevenson said the injured man was checked over by the team's doctor, but did not require hospital treatment.
And on Saturday, the team was contacted about a walker who became unable to walk on the Zig-Zag path up the Ben.
The team leader said they believed the man, who was in his 20s and from outwith the Highlands, became weak due to lack of food and drink. He was flown off the hill.