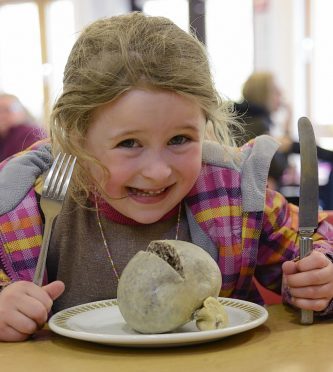 A joyous celebration of Scotland's national dish will take place in the form of the Highland Haggis Festival in Lochaber next weekend.
To include cookery demonstrations, competitions and much more, the event will take place in and around Spean Bridge on Saturday April 16 and Sunday April 17.
A community project supervised by the Glen Spean and Great Glen Tourism Marketing Group, the festival aims to engage local people and attract visitors from across the country.
Festivities get underway on the Saturday night in Spean Bridge Community Hall from 7pm, with tasty haggis being served up followed by dancing to the Sileas Sinclair Band.
The main event in Spean Bridge Primary School on the Sunday and will be opened by Donald Cameron of Locheil at 1pm.
Cookery demonstrations showing the versatility of the humble haggis will be conducted by some of the area's most innovative chefs, including Scott Kelly of Letterfinlay Lodge Hotel, Allan Donald from Laroch Restaurant, Ballachulish and Spean Bridge's own Ben Martin of the Station Bar and Restaurant.
A local craft and produce fair will have background music provided by local youngsters.
There will be a haggis-flinging competition, bouncy castle and a Haggis Cafe.
The public will also be able to impartially comment on the attributes of the finest examples of the renowned dish, by taking part in a blind tasting. Several of the foremost haggis manufacturers have put forward their wares for this taste-test.
Throughout the weekend, young haggis-hunters can scour Spean Bridge to find over 20 haggii, hidden in various nooks and crannies across the village.
Deneil Snaith, one of the festival organisers, said: "The star of the show is our very own Hector the Highland Haggis, who will be appearing in various locations during, and in the run up to, the main event. Designed and manufactured by Frenzy Creative, who are well-known for their Blue Peter set designs, he is sure to be a major Lochaber celebrity for years to come."
Local youngsters are competing to design their own Cordon Bleu takes on the more traditional haggis recipes. The results of this will be showcased at the festival.