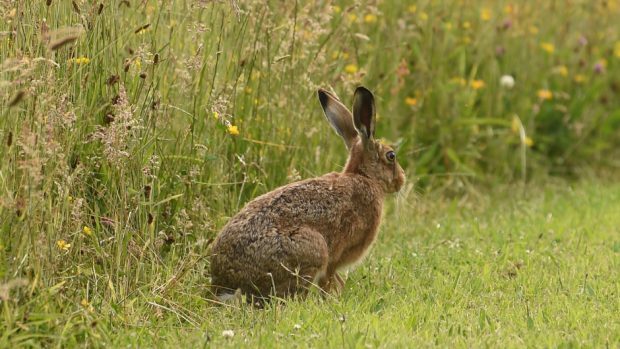 Police in the Highlands are cracking down on illegal hare coursing – a cruel blood sport in which the long-eared mammals are chased down by dogs before being killed and discarded.
Wildlife crime campaign Operation Lepus – named after the genus to which hares belong – is focusing on parts of rural Inverness, Nairn and Ross-shire.
Officers will be conducting high visibility patrols in hotspot areas for hare coursing and will be liaising with local communities and users of the rural environment to prevent wildlife and rural crime.
Wildlife crime liaison officer PC Daniel Sutherland, who is leading the campaign, said: "We have a healthy hare population in the Highlands.
"This unfortunately can attract people who carry out illegal hare coursing and we want to send a clear message that this is not welcome in the Highlands."
He added that spring conditions were ideal for hare coursing, with lighter evenings on large fields giving good visibility for the coursers to locate hares.
He said: "I want to encourage the public to continue to report any suspicious behaviour to us.
"Hare coursing often happens at weekends and evenings during daylight hours.
"Those involved in illegal coursing tend to use a lurcher breed of dog and will actively search fields for hares.
"This can be done by searching the fence lines or working the field with the coursers in lines with the dogs at their side ready to slip the dogs on sight of a hare."
PC Sutherland pointed out that this activity could also be subject to illegal gambling as the handlers compete to ensure their dog gets the kill. "Once killed, the hare is discarded as it is not kept for any purpose," said the officer.
Wildlife crime officer PC Carl Sandever, who is participating in the patrols, pointed out that they have the power to seize vehicles and dogs involved in illegal hare coursing.
And NFU Scotland regional manager for the Highlands and islands Ian Wilson said: "Farmers are better placed than most in the rural community to combat this gruesome form of wildlife crime.
"Operation Lepus has known local success in previous years, with incidents reported by farmers and members of the public and I am proud that our industry can help play a part in stamping out rural crime."
He encouraged anyone with any suspicions that hare coursing was taking place to contact the police on 101.