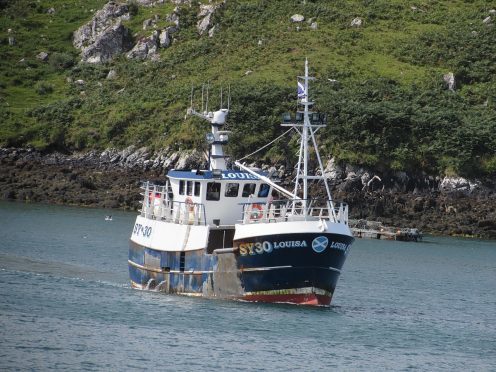 The crab boat which sank off the Western Isles just over a week ago was rescued by lifeboats on four previous occasions, prior to the tragedy.
Skipper Paul Alliston, 42, remains unaccounted for after the MFV Louisa sank off the coast of Mingulay.
Fishermen Martin Johnstone, 29, from Caithness and Chris Morrison, 27, from Stornoway both died in the incident, while crewman Lachlann Armstrong, 27, managed to swim to safety.
Police are carrying out a joint investigation with the Marine Accidents Investigation Branch (MAIB) and are considering bringing the boat to the surface as part of the inquiry.
The four fishermen were asleep in their bunks at anchor, about 12 miles south of Barra, unaware the 49ft vessel was taking on water.
When the emergency was sounded, the crew abandoned ship on to a life raft – but it failed to properly inflate.
Yesterday, it emerged that the vessel had been the subject of four separate lifeboat call-outs.
The crew were rescued for a second time that month in February 2014 when the vessel ran aground on the uninhabited Ascrib Islands in Loch Snizort in north-west Skye.
Four of the crew were taken aboard the Leverburgh Lifeboat and the Louisa was refloated. Weeks previously, the boat broke down while fishing off North Uist and was towed to Stornoway.
In November 2014, the ship's propeller became fouled off the Outer Hebrides and the boat was towed to Castlebay.
It suffered the same problem in 2011 when it hit trouble near the Shiant Islands, south east of Lewis, and was towed into port by Stornoway Lifeboat.
Reacting to the revelations, Western Isles MP Angus MacNeil said: "All of these incidents seem to be unconnected.
"Whatever sank it seems like an issue with the vivier tank, and there was a problem with the life raft.
"I'm sure it is something the MAIB will look into, but on the face of it, it seems unconnected. Running aground is certainly different to the boat taking on water.
"None of the rescues are similar to the incident when it was anchored and started taking water on board.
"The big issues are probably why did it start taking on water and why did the life raft fail."
The vessel had tanks containing 20 tons of seawater to keep crab meat alive for market.
Investigators will also look at whether or not there was a leak at the propeller shaft or rudder glands.