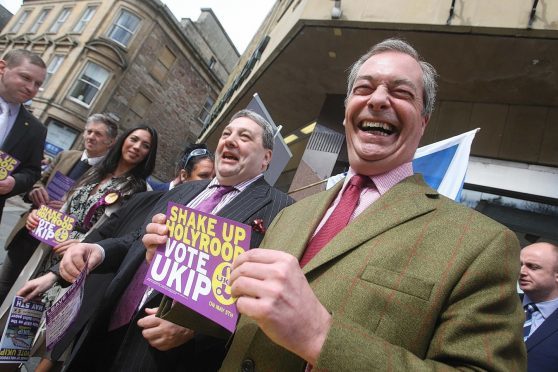 Nigel Farage confidently declared yesterday that he was "certain" the Highlands would elect one Ukip MSP next month – and that the party was "pushing close" for two.
The party leader highlighted the region's "history of Euroscepticism" as he took to the campaign trail in Inverness city centre.
The anti-EU party has installed its controversial Scottish leader David Coburn, who has hit the headlines this week after being labelled "gaffe-prone" in a letter signed by 10 members, at the top of its Highland list.
Mr Farage brushed off the criticism of Mr Coburn yesterday, however, saying: "It's a group of people whose names you've never heard of, who are disappointed they haven't found themselves in winnable positions.
"Petty jealousy happens in all walks of life. It's irrelevant."
The pair received a mixed response as they spent about an hour speaking to voters at the sun-kissed Eastgate end of the Highland capital's High Street.
Mr Farage posed for "selfies" and was hailed as "the only one who will tell the truth" by backers – but was heckled by others, including one man who said: "Away you go guys, disappear".
A couple of Scottish independence supporters attempted to gatecrash the party, waving a large "Yes" flag above Mr Farage, before a Ukip activist grabbed it and ran away.
Mr Farage told the Press and Journal he believed many in the Highlands backed his goal of Britain quitting the European Union, known as "Brexit".
He said: "One of the difficulties in Scotland is that there are so few voices in favour of Brexit among the political class.
"Amongst the Scottish population, actually there's quite a lot of people who favour Brexit, and actually in the Highlands and islands, the fishing communities etcetera, there are some very strong feelings on this issue.
"The Highlands has a history of Euroscepticism. Don't forget in '75, Orkney and Shetland was the only part of the UK that voted to come out. Again, that was fisheries then and it's fisheries again in spades now, isn't it, given what's happened."
The Ukip leader believed Mr Coburn would soon be representing the area at Holyrood, and that he would not be the only one.
He said: "Actually, having somebody with David's profile here, I think we can get two here. I do, just looking at the numbers.
"One opinion poll that said we could get seven seats. Things look pretty hopeful here, pushing close up on two. So let's see.
"One, I'm certain we're going to do, and if we get two, I'd be thrilled."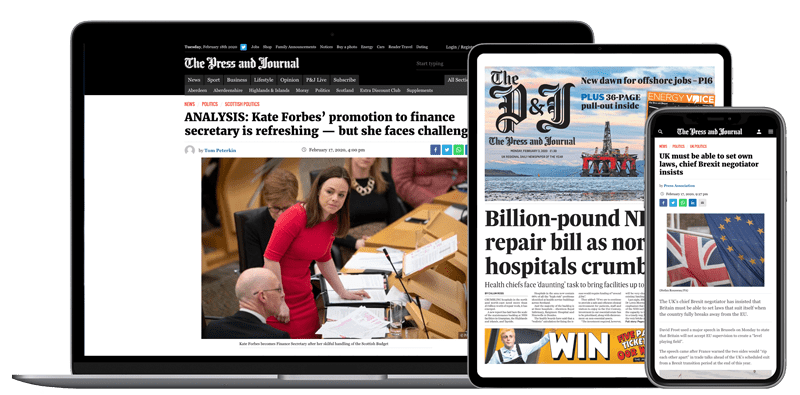 Help support quality local journalism … become a digital subscriber to The Press and Journal
For as little as £5.99 a month you can access all of our content, including Premium articles.
Subscribe