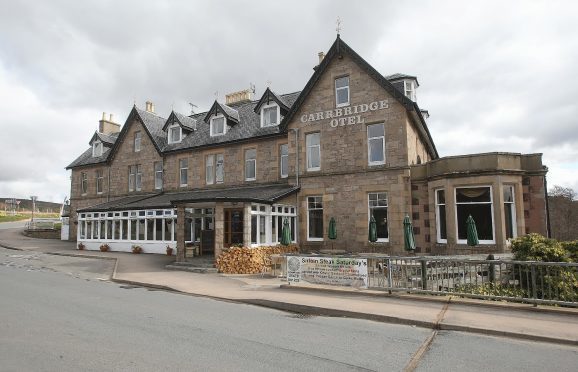 A Highland hotel has been ordered to shut down its biomass boiler and put four of its bedrooms into lockdown in the wake of a suspected poison gas alert.
Environmental health officers were last night stilling investigating the Carrbridge Hotel incident, as a theory emerged that the fumes may have been caused by glue on a new carpet.
The 5am drama last Friday led to rooms at the busy hotel being evacuated.
About 90 guests were ushered from the building, with four holidaymakers ending up at Raigmore Hospital in Inverness.
The two men and two women, aged in their 50s and 60s, were detained for the rest of the day for medical checks after inhaling suspected carbon monoxide fumes.
Highland Council yesterday confirmed that a "precautionary" enforcement notice had been served to ensure the wood-fired boiler is not used and four bedrooms are out of bounds.
It admitted, however, that the cause of the incident "is not known."
Senior environmental health officer Patricia Sheldon said: "This was a very serious incident that was very distressing for all those involved.
"We're carrying out a detailed investigation to identify what happened. At this stage we don't know what caused this incident.
"I would take this opportunity to remind tourist accommodation providers and landlords to ensure that any oil, gas or wood-fired appliances are regularly serviced and maintained to ensure they are safe to operate."
A guest who is now back home in Exeter after a railway break that brought her to the Highlands for the first time, believes the smell that sparked the alarm was carpet-related.
Caroline Cunliffe, who was staying at the hotel with her husband Steve, the Dawlish town crier, said: "We didn't smell any gas. We were told the carpets had just been relayed and it was the glue on the carpet that was sending out the fumes."
She added that hotel management had apologised profusely and offered guests complimentary drinks as a token.
Carrbridge Hotel managing director Colin Watt was aware of the carpet glue theory.
"All I can say is that there's an ongoing investigation with the environmental health officers to establish the cause of the full evacuation at the hotel," he said.
He added that a back-up heating system was in use and reaffirmed his gratitude to the emergency services.
Ambulance crews and police were called to the hotel last Friday along with fire crews from Aviemore, Grantown and Inverness. Firefighters wore breathing apparatus while dealing with the incident. The fire service's own investigation is continuing.
The environmental health inquiry is being carried out under the Health and Safety at Work Act to establish what happened and to consider if any offences have been committed.
The department said the hotel's owners had been cooperating fully with the investigation and that the enforcement notice was precautionary.