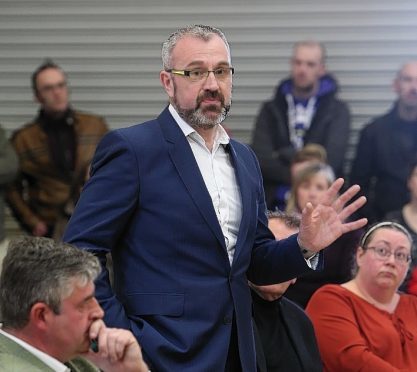 A rival campaign has surfaced in Inverness's prison wars, backing Milton of Leys as the right location for a new jail.
About 200 people have given their support via a new social network site which has sprung up since a public meeting on Monday drew a 300-plus crowd – all of whom appeared to oppose the prison service's preferred site.
The fledgling online campaign counters a slick website devised by Highlands Against the Proposed Prison Location which objects to the construction of a replacement for Porterfield Prison on a hillside gateway to the Highland capital, beside the A9.
"Each and every person is entitled to their opinion," the new campaign states.
The introductory remarks also allege that a number of supporters of the Milton of Leys choice who have registered an opinion on the anti campaign web page have been "discriminated against for having this opinion."
They state: "It's a prison. No matter where you put it, there is going to be two sides."
In the great debate, there is a general acceptance that a new facility is needed to replace the ageing and cramped city centre complex.
Among those in the "pro" Milton of Leys (MoL) camp is Jenny Bear, who states: "A new prison is desperately needed and has been for a very long time.
"In almost every other city, the prison is located within the main perimeter of that city. MoL is the perfect place for it as there is plenty of space for it.
"It will create jobs. The price of property will increase not decrease, as is the same around other jails."
She adds: "It's a positive thing. It means people from here can stay here (and) not be shipped to Glasgow and Edinburgh so they can be with their families, etc."
Michelle Christie says: "There has never been problems in Crown regarding the prison and it certainly hasn't affected property prices."
Another campaigner asks: "Why is Milton of Leys too good for a prison?"
Contradictory views have also made the "pro" campaign's new page, however.
Megan Wemyss says: "I live in Merkinch and if a prison was built next to my house I'd certainly be against it. It's not a case of they're too good; it's a case of who really wants a prison on their doorstep."
Monday's public meeting, hosted by Inverness South Community Council, sought a show of hands in support of the siting the jail at Milton of Leys. No-one raised a hand.
The council's vice chairman Richard Crawford described the option as "crazy, right on the edge of a new estate, a new village even."
The Scottish Prison Service unveiled its proposal last month. It will stage public consultation events in May and June.