The family owners of a popular Highland tourist attraction have spoken of their heartbreak after watching their business go up in flames.
More than 40 firefighters battled through the day yesterday to contain the blaze which has almost completely destroyed the Speyside Heather Centre near Dulnain Bridge.
The garden centre, which attracts thousands of visitors every year and employs up to 25 people at any time, is owned by the Lambie family who watched the fire from their nearby home.
Owner David Lambie said: "It took 44 years to build it and about three hours to completely destroy it."
His wife Betty described the fire as "our worst nightmare".
Eye-witnesses described hearing a series of "explosions" as the fire took hold throughout the garden centre, which included a whisky tasting lounge, restaurant and antiques sales area.
The fire was first reported at about 8.20am by neighbours who spotted the blaze as it began to take hold in one of the main buildings in the complex.
The fire service described the blaze as "already very well developed" when crews arrived and said it spread "rapidly" through the building.
Several buildings were completely razed by the spread of the fire, which has been by the Lambie family since 1972.
Speaking from the scene yesterday, Mr Lambie said: "I'm just not sure where we go from here. I have no idea.
"It has kept us and our family going for 44 years so as I say I have no idea where we go from here. We'll have a wee think about it.
"It's going to be hard just to look at it. It's hard to comprehend when it's your life."
Mrs Lambie said: "At first I was hoping they would be able to salvage at least some part of it
"But we're all fine, there's nobody hurt and that's something."
In a sign of the scale of the operation, fire service officers requested 20 replacement breathing apparatus cylinders to replenish those depleted since firefighters reached the scene.
Crews from Grantown, Aviemore, Inverness, Kingussie and Nairn were involved in the operation.
Station manager Robbie MacDougall, the incident commander, said: "Our crews have completely surrounded the fire but the operation is likely to continue into this evening.
"Flames spread rapidly through the building and the fire was already very well developed when first responders arrived.
"Our teams have been working extremely hard to protect adjacent maintenance buildings from the intense flames and we will continue the firefighting operation until it's brought to a safe conclusion."
Councillor Bill Lobban, Badenoch and Strathspey, described the fire as a "tragedy" for the whole community and the Lambie family.
He added: "Hopefully the damage is limited to bricks and mortar and that we'll see them up and running in the very near future."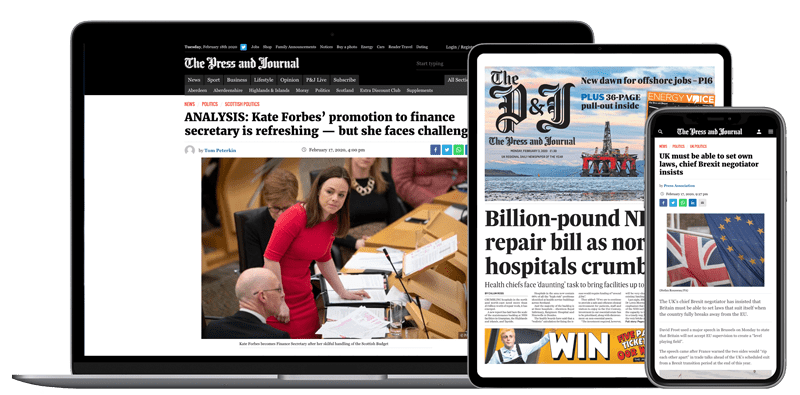 Help support quality local journalism … become a digital subscriber to The Press and Journal
For as little as £5.99 a month you can access all of our content, including Premium articles.
Subscribe