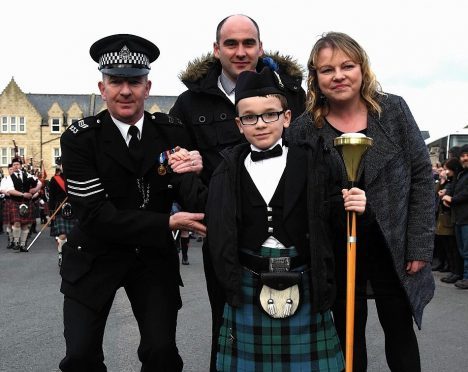 A schoolboy seriously injured in a road accident led a huge fundraising parade of pipers and drummers through his home town.
Dressed proudly in his kilt Dylan Davidson was at the front of the march through Dornoch with his family and the policeman who has played a key role in his young life.
Sergeant Peter Allan helped deliver Dylan at the roadside in Caithness nearly a decade ago – and he was first on the scene when youngster was knocked down on his way home from school in November.
The massed parade at the weekend was organised as a fundraiser for Dylan's recovery, with nine pipe bands taking part.
Sgt Allan pushed Dylan in his wheelchair at the head of the parade, flanked by his parents Kevin and Jean.
Nine-year-old Dylan then got to his feet to walk the last few yards into the town Square.
East Sutherland and Edderton councillor Jim McGillivray said the event was an "inspired idea".
He said: "It was absolutely spectacular. The sight of the massed pipe bands coming down Argyle Street into the Square will live long in the memory.
"The performance itself was excellent and was really well attended.
"They'll have raised a good bit of money for him, which is great to see.
"It was a beautiful touch having Dylan lead the parade as well, that'll have been a great boost to him.
"The whole thing was a great credit to Sergeant Peter Allan and everyone involved."
Sgt Allan helped organise the parade, along with Duncan Macdonald, drum major with Beauly Firth and Glens Pipe Band.
The police officer helped deliver Dylan after his parents flagged down his patrol car on the A882 between Thurso and Wick after realising they were not going to make it Caithness General Hospital in time.
And nearly a decade on, the police officer was on duty on the November night last year when Dylan was seriously injured on the way home from school in Dornoch.
Before the parade Dylan's parents said they were "extremely grateful" for the fundraising effort and said he had been making a "brave recovery" from the accident.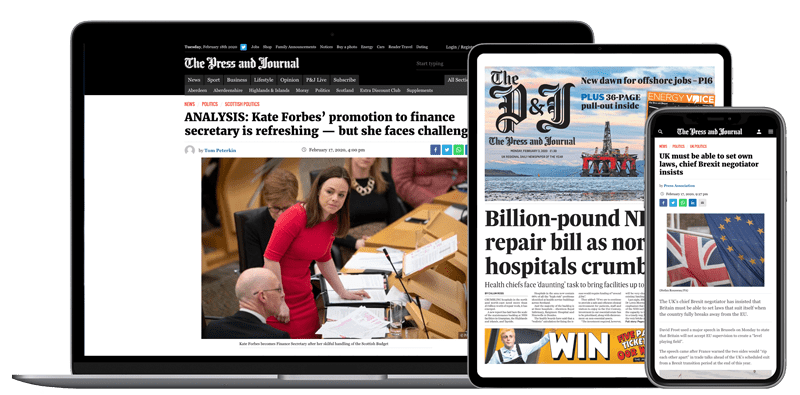 Help support quality local journalism … become a digital subscriber to The Press and Journal
For as little as £5.99 a month you can access all of our content, including Premium articles.
Subscribe