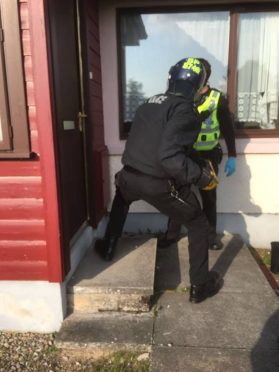 A haul of drugs has been seized in a series of police raids in three Sutherland villages.
Local police and specialist officers stormed a number of houses in Golspie, Brora and Helmsdale on Friday, May 27.
A police spokeswoman confirmed yesterday that a "quantity" of controlled drugs had been recovered and a number of people are expected to be reported to the procurator fiscal after the six drug search warrants were executed.
A high visibility police presence was also maintained in Golspie, Tain, Alness and Invergordon over the weekend to provide public reassurance.
A number of visits were carried out at pubs and licenced premises with no serious incidents reported.
Commenting on the weekend's activity, Inspector Jamie Wilson said: "This was another good weekend of work by local and plain clothes officers, supported by our specialist units in response to information received from communities in the Golspie area.
"Over the course of the weekend, we were highly visible in the community and engaged with a lot of local folk who shared some of their concerns with us.
"Our visits to the licensed premises will help to strengthen the relationship we have with local pubs, and ensure we continue to work together to keep the area safe."
It is understood that the raids were carried out off the back of intelligence and concerns raised by the local communities.
Sergeant Ronnie Mackenzie added: "The action of the last few days serves as yet another warning message to those involved in the supply of drugs in our community and those who commit violent crime that we will continue to target and disrupt their efforts.
"Drugs have no place in our communities and their supply and abuse leads to a host of related criminal activities which really ruin the quality of life for the majority of law-abiding residents in our area.
"We will continue to work hand-in-hand with our partner agencies, and with local people, to target offenders in the community.
"We will continue to do all we can to disrupt, deter and detect persons involved in this behaviour and would urge anyone with information to contact police."