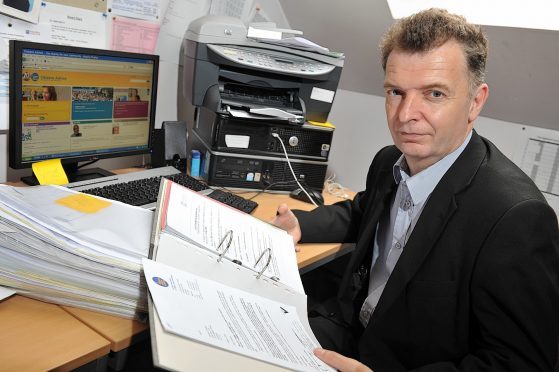 Highland councillors' expenses soared by 9% in a year in which they agreed to hundreds of staff cuts and sweeping reductions in services to balance the books.
The bill rose to £283,990 in 2015-16 compared with £260,128 the previous year.
Four members claimed five-figure sums.
They were budget leader Bill Fernie (Wick, Independent) £15,521; education chairman Drew Millar (Skye, Ind) £12,162; planning chairwoman Audrey Sinclair (W.Ross, Strathpeffer & Lochalsh; Ind) £11,126 and Donnie Mackay (Thurso, Highland Alliance) £10,245.
Liberal Democrat group leader Alasdair Christie was the only member not to claim a penny.
He said: "It's a personal decision. I feel the allowance I get and being a city councillor means I can accommodate any incidental expenses such as telephone use and mileage."
The other lowest claimants were Allan Duffy (SNP) £138, Neil MacDonald (Labour) £142 and Jean Slater (SNP) £172.
The council's deputy leader Alasdair Rhind (Ind) is the only councillor not to claim for telephone use while SNP city councillor Ken Gowans' phone bill was the biggest at £615.64. He could not be contacted yesterday for comment.
Councillor Rhind, a funeral director who represents Tain and Easter Ross, said he does not claim phone expenses because it would be too difficult to extrapolate his personal and private business use from that of council business.
"It's simpler to use my own mobile phone and house phone. I don't have a council phone," he said.
"Nowadays, with a mobile phone, you're getting so many free minutes anyway."
He believes it would benefit council tax payers to have a universal "unlimited calls" tariff arrangement for mobile and household telephone use for all 80 members.
"I would have thought that with the buying power the council has they should be able to do that," he said.
A spokeswoman for the council confirmed that all new contracts for mobiles are now on a tariff featuring unlimited call minutes.
She added: "We've shown, through competitive procurement, that we have the best value packages that were on offer at the time we procured them."
The council's annual expenses data first went online in 2004-05. At that time, members received a basic allowance of £7,301 compared with the current basic salary of £16,726.
The total expenses bill in 2005 was £552,924 – twice that of today's claims.