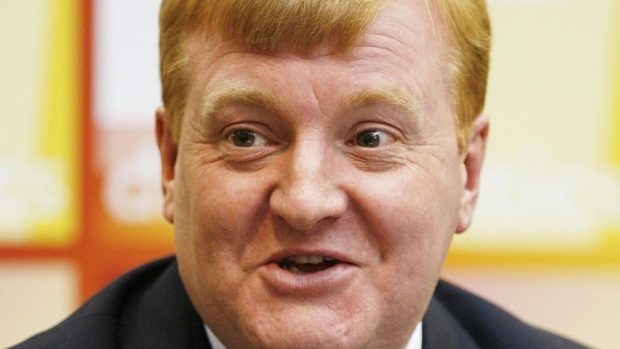 More than 200 people turned out to remember Charles Kennedy last night on the first anniversary of his death.
They were attending a poignant service to unveil a stained glass window in memory of the popular politician at his local parish church in Lochaber.
The colourful work of art is also a tribute to his parents, Ian and Mary, who provided the music for the vigil mass at St John's Church, Caol, near Fort William, for more than 40 years.
Charles Kennedy, who was a Member of Parliament from 1983 to 2015 and leader of the Liberal Democrat party from 1999 to 2006, died suddenly at his Lochaber home on June 1 last year at the age of 55.
Before the unveiling of the £7,500 window, which features a golden eagle and Ben Nevis, parish priest Father Roddy McAuley said: "It is a lasting and fitting tribute to Charles and his parents.
"The window is for the adornment of the church and the inspiration of people."
He added that the former Ross, Skye and Lochaber MP had been a very humble man and said he would have liked the window because "although it is in memory of him and his parents, it's not about him".
The window high above the door at the back of the church was unveiled by Charles Kennedy's older brother 63-year-old Ian Kennedy, of Lochyside.
During the ceremony the string attached to the fabric covering broke, leaving the window partially covered.
The priest joked that it was a "technical hitch" and moved on to the final hymn.
Mr McAuley later informed the congregation that if they turned around they would be able to see the window and, as they did so, a round of applause broke out.
After the service, Ian Kennedy said: "The window is outstanding. It's brilliant and a fitting tribute to my brother.
"Charles did a lot for the community in Lochaber and the rest of the constituency and the whole community contributed to the stained glass window."
He added that it had been an honour to be asked to perform the unveiling, even if he did break the chord.
And he said that every time he saw the window it would remind him of his brother.
Other family members present included Mr Kennedy's aunt Madge Kennedy, of Upper Achintore, uncle Peter Cameron, of Claggan. Mr Kennedy's cousin Paul Kennedy, of Cardross in Argyll was also there.
The politician's ex-wife Sarah Gurling and their 11-year-old son Donald were unable to attend.