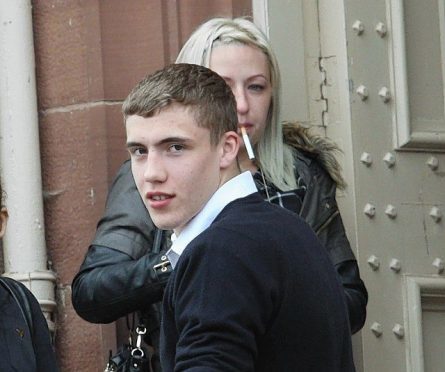 A teenager who forced the evacuation of 32 flats when he posted a picture of a "very realistic" hoax bomb on social media has been jailed for more than a year.
Jack Salter built the device in Fort William and caused chaos and panic among his neighbours when he "advertised" the authentic-looking device online.
His solicitor claimed the 18-year-old was suffering from "acute grief reaction" following the death of his father a few weeks before the incident.
But appearing for sentence at Inverness Sheriff Court yesterday, Salter was sentenced to 16 months after he admitted behaving in a threatening manner by exhibiting a device that looked like a bomb.
Sheriff Margaret Neilsonn said: "I accept that at the time you were at a very difficult stage of your life and not coping well. But the charge is of such gravity that no other disposal other than a custodial one is appropriate."
Fiscal Roderick Urquhart showed the Sheriff Salter's Facebook page with an image of the bomb he had made – constructed from two gas cylinders, a golf club, a scarf and a deodorant canister.
Police and firefighters were called to the scene inside Salter's previous residence at Upper Achintore, on June 19 last year before the Army's ordnance disposal experts were scrambled from their Edinburgh base.
Mr Urquhart said: "This left a lesser-equipped standby truck to cover the whole of Scotland for a period of eight hours.
Salter also admitted three road traffic offences which happened five days earlier.
Mr Urquhart told Inverness Sheriff Court that at about 8.20pm on June 19, police officers attended Salter's flat in connection with an unrelated offence, before he invited them in to look in his living room.
"On entering the living room the constables immediately noticed that placed on top of a coffee table were two gas cylinders, a golf club, scarf cloth and deodorant tied together with a length of material, the other end of which appeared to be connected in some way into the heating element of an electric heater."
"At this stage, Salter became upset and said, "I don't feel good at all. I'm going to see my dad. I just don't feel good at all right now. I just wanted to end it all."
Police took Salter away and firefighters carried out a brief assessment of the apparent bomb and formed the opinion that the items "could be a viable device. A major incident was then declared and 32 flats were evacuated.
"Later Army Ordnance experts established that the assembly was not a viable explosive device however the set-up of it created a visual effect such that it would appear viable to the untrained eye.
"When interviewed he talked freely to police about how he had constructed it, describing what he had used and how he believed it would work. He said, "Really, all it would have taken is one spark and that would have gone boom."
Solicitor Hamish Melrose said: "He was having difficulty coming to terms with his father's death but that is no longer the case. Just a week before he died, he had to perform CPR on his dad to bring him back around.
"At one stage it was very difficult to get anything out of him but he is in a stable relationship now and has plans to go to college.
"He gave police a very emotional interview and a doctor had to be present. It was put to him that he had done this to get help and he agreed. "It was not a viable device but gave the impression of being one. That is what he wanted. He put it on Facebook and advertised it in effect." Mr Melrose went on.
But Mr Melrose had to concede that Salter, of 89 Lochaber Road, Fort William, also told police: "It was just so the cops didn't lift me at the weekend for the road traffic offences."