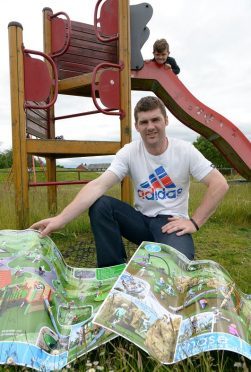 A Highland community group's ambitious plans for a £300,000 play park have taken a major step forward with the granting of charitable status for the project.
Caol father-of-three Damian Macdonald came up with the idea for the park last year and the Caol Play Park Committee – now renamed Caol Play – was set up to take the scheme forward.
Mr Macdonald, who is chairman of the group, explained that the Lochaber village, near Fort William, needed a new park because the old one was rundown and outdated.
He said members were hoping to get grants for much of the money, but the community would also need to make a contribution.
They have started by placing collecting tins in local shops, but are planning bigger fundraising events for the future.
Mr Macdonald said: "We've done a feasibility study, which showed the BMX park on Banavie Road to be the preferred site.
"We also contacted four companies and told them what we wanted. So far two have come back with designs and both are really impressive."
He added that the work would be done in two phases, each costing about £150,000.
And he is hoping they will be able to get the first phase of the new park up and running by next summer.
Mr Macdonald said the group was in the process of getting a lease for the land from Highland Council.
He also pointed out that the council had about £10,000 to £14,000 sitting in a local pot for a play park because, for every house that has been built in the area, money has been put aside for play facilities.
He said the council was also offering around £70,000 towards the project to make up for two smaller local play parks that will be lost due to the Caol and Lochyside flood alleviation scheme.
"We could possibly have over £80,000 towards the first phase.
"Getting charitable status is a big step forward.
"And, as soon as we get the land sorted out, we can start applying for major grants," said Mr Macdonald.