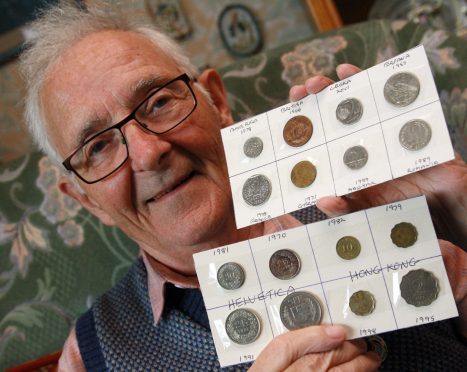 They say that if you look after the pennies, the pounds will look after themselves.
And the old adage has definitely proved to be true for a Highland man who mounts foreign coins on cards to raise money for charity.
Billy Denney, who has worked in his local cancer charity shop for 27 years, has raised £24,000 from the sale of his popular coin cards.
And the 82-year-old, of Upper Achintore, Fort William, has just been presented with Cancer Research UK's Flame of Hope award for his efforts
Mr Denney worked at the pulp mill in Corpach until he was laid off before it closed.
He then helped his wife to run a B&B in the Lochaber town before retiring from paid employment, but he has continued with his charity work.
And when he saw how many old coins were donated to the charity, he came up with a way to make use of them.
He said: "When people are clearing out houses, they often find coins in the back of the drawers and bring them into the shop.
"So I started cleaning them up and mounting eight coins on each piece of white card.
"I write the country and the date on them and we sell them for 95p."
He added that, when his area supervisor saw what he was doing, he started collecting up loose coins from the charity's other shops in the north and bringing them to Mr Denney for mounting.
And he has now made up more than 25,000 cards of coins.
Mr Denney said he liked to put coins from the same country on each card as they seem to be particularly popular, but often has to mix them now as they are becoming more difficult to get hold of.
He said: "They are getting very scarce now because of the Euro.
"I ran out last year and my supervisor went around to all the shops pleading with them for any more coins.
"I will carry on doing them for as long as we can get the coins."
He added that the shop had tried increasing the price of the cards to £1, but they stopped selling so they had to drop the price to 95p again.
Mr Denney, who still volunteers in the Fort William shop on Monday and Saturday afternoons, said he was very surprised when the charity's London office contacted him about the award.
He said: "I just couldn't believe it when they contacted me about it, but I was really pleased to get it."
He added that he would carry on volunteering in the shop for as long as he is able.
Mr Denney said: "I really enjoy doing it.
"I like meeting people. I know all the locals and I enjoy meeting the tourists.
"Some of them are amazed that we do it for nothing."
Cancer Research UK's annual national Flame of Hope Volunteering Awards were introduced to celebrate the charity's most inspiring volunteers. Since 2003, more than 700 accolades have been presented.