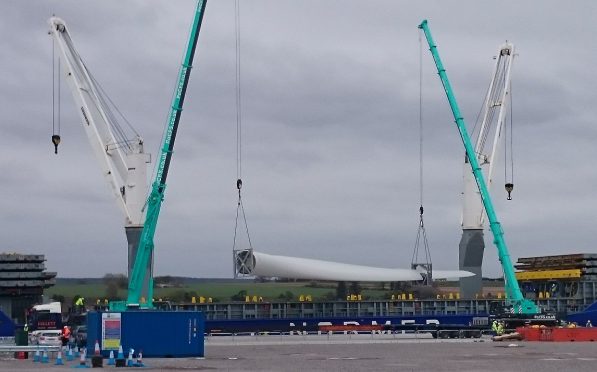 A £24million investment in a new quayside at a Highland port has enabled it to receive its biggest single delivery of wind turbines.
Port of Cromarty Firth has just had the fourth and final shipment of components to complete 17 wind turbine towers for the Corriemoille wind farm at Garve in Ross-shire.
The shipments consisted of three separate deliveries of turbine blades from Turkey and a single delivery of tower sections from China.
This meant that 17 complete wind turbine towers were offloaded at the Invergordon port over three days.
Halifax-based heavy transport contractors Collett & Sons Ltd was commissioned to deliver the wind farm, with each turbine consisting of three blades, three tower sections, one nacelle and one hub.
Due to the size of the parts, Collett & Sons contracted Port of Cromarty Firth Services to co-ordinate the job.
And tandem lifts – carried out by two cranes working together – were needed to raise each blade onto specialist extendable trailer units capable of accommodating the full 165ft blade for transportation.
Delivery of the turbine components from the port to the construction site is due to start in July.
The port recently invested more than £24 million in phase three of development at the Invergordon Service Base, in an effort to attract a wider range of customers.
This involved reclaiming nine acres of seabed and constructing a new 500ft deep-water quay.
And the new quayside area ensured the port had sufficient space to accommodate the large components involved in renewable energy.
The port's chief executive Bob Buskie said: "We are delighted to see more wind farm components arriving into the port.
"The towers were transported in a single shipment from China and there are very few ports in Scotland that could accommodate such a large vessel.
"Our success in this project highlights the capabilities of the supply companies based in Invergordon and their ability to jointly co-ordinate large projects."
He added that it was the type of new business opportunity the port wanted to attract when it invested in the latest phase of development.
Collett & Sons renewables manager Jack Collett said: "Collett and the Port of Cromarty Firth have a great working relationship having delivered the 35 turbines to Gordonbush Wind Farm five years ago with great success."
He add that his company was delighted to be given the opportunity to work with the port again on the delivery of Corriemoille Wind Farm.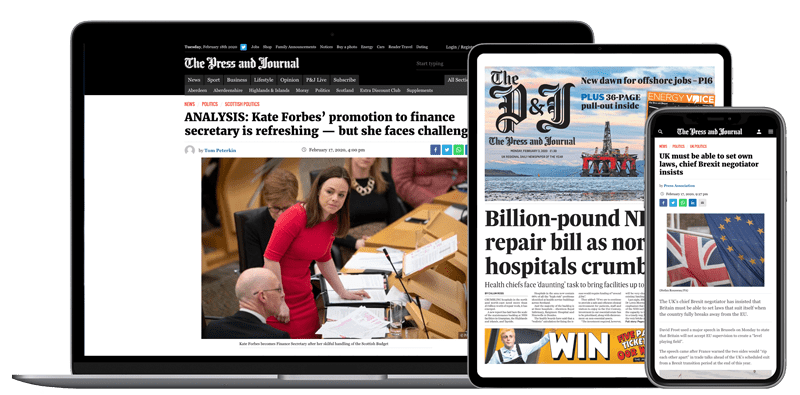 Help support quality local journalism … become a digital subscriber to The Press and Journal
For as little as £5.99 a month you can access all of our content, including Premium articles.
Subscribe