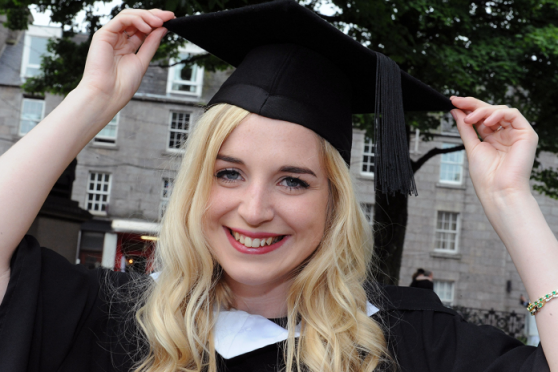 A Lerwick artist who has already had a taste of success after winning a national competition was celebrating again yesterday as she graduated.
Sarah Leask, 22, graduated from RGU's Gray's School of Art with a bachelor honours degree in communication design.
Earlier this year, the 22-year-old won a competition run by mobile phone company Three after designing a wallpaper design for Samsung S7 devices.
And now she is looking forward to more success in the future, after overcoming some initial doubts when she first started the course at RGU.
Miss Leask admitted she struggled to get to grips with the course, as she was coming from a fine art background and going into a subject with a more design-led approach.
"I never really saw myself as a designer before studying at Gray's School of Art," she said.
"Initially I did struggle to fit in to my course due to the fact that I came mainly from a mainly art background, which meant I wasn't as familiar with some of the programs and methods of working that graphic design and illustration requires.
"However, I managed to overcome this and learnt enough technical skills to produce the work that I need to do.
"The personal highlight of my time at university was probably the Gray's Degree Show opening night.
"I absolutely loved it as so many of my family and friends came to see what I had been working towards for the last four years which was a really great feeling."
Miss Leask now plans to stay in the north-east and contribute to the artistic culture of the region.
"My four years in Aberdeen have been fantastic," she said.
"I have met so many lovely friends through art school as well as part of a sports team.
"I'm looking forward to starting a new adventure as a freelance illustrator.
"I'm planning on staying here in Aberdeen and working from a small studio in town, and I'm hoping to get involved in several aspects of the creative industry in Aberdeen."