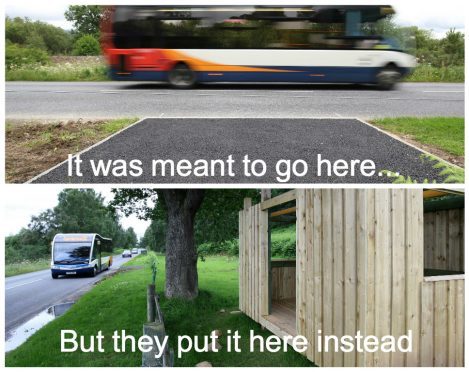 You wait forever for a bus stop and then two come along at once.
That is exactly what has happened at the Highland Wildlife Park after a breakdown in communication left the zoo with the beginnings of two stops.
Highland Council began work on a tar base ahead of installing a new shelter on the road outside the park near Kincraig.
But at the same time the park's owners the Royal Zoological Society of Scotland (RZSS) starting working on their own shelter just a few yards up the road.
It has left the park with both elements of the bus stop in separate locations.
The RZSS said the situation was an "error" – while the council has said it work with the park to supply signage to make it clear the park's wooden shelter is the official stop.
Councillor Gregor Rimmell, Badenoch and Strathspey said buses had been stopping "informally" outside the popular tourist attraction for years and said the idea of having a stop was "first class".
But he said the situation with the two stops was "worth investigating".
He said: "Local members are always in favour of improving public transport in Badenoch and Strathspey.
"I'm glad that there will be a stop there, it can only be a good thing."
A spokesman for the RZSS said: "RZSS Highland Wildlife Park sought planning permission some time ago for a sheltered bus stop outside the Park. This is the official bus stop.
"From what we understand, there was an error with the additional incomplete bus stop base further down the road."
A Highland Council spokeswoman added: "As part of works to improve public transport facilities in Badenoch and Strathspey, Highland Council's transport co-ordination unit previously had plans to erect a bus shelter outside the Highland Wildlife Park in Kincraig and a tar base was laid in preparation for the installation.
"The Highland Wildlife Park received planning permission to install a wooden bus shelter at a different location and the council is working with the Park to provide them with a bus stop sign at their location.
"The council has cancelled plans to install a shelter and will now use its shelter somewhere else in the area."