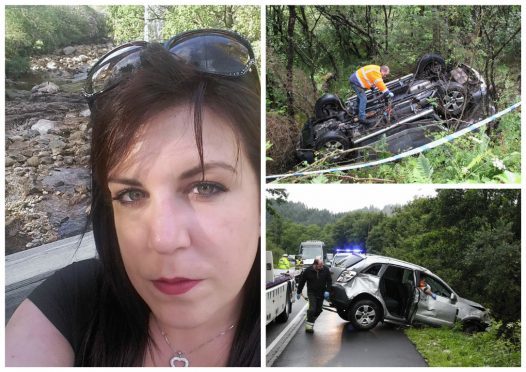 A woman was trapped in her car and left hanging from her seatbelt for almost an hour after it skidded off a Highland road and plunged down a steep embankment.
Mags Stewart was only saved from her ordeal when a trucker known only as "Dougie" spotted her hazard lights flashingin the dark.
The 28-year-old said she felt like she was "driving on ice" just before the crash.
Yesterday, it emerged that another motorist also slid off the carriageway on the same stretch of the A82 Fort William to Glasgow road less than 10 hours later.
And it is understood that six further vehicles have been involved in similar accidents on the section of the busy trunk road between Onich and Corran Ferry in Lochaber in the past month.
Urgent calls are now being made for an investigation into the cause to these incidents and for the problem to be put right as soon as possible.
Ms Stewart, who is form Fort William, said her Vauxhall Antara 4×4 started skidding while she was heading home from Lochearnhead on Tuesday evening.
The incident happened about half a mile south of Corran Ferry, close to the Vertical Descents outdoor activity centre.
Ms Stewart said: "I was driving very carefully but the car just started skidding. It felt like I was driving on ice.
"It slid over to the other side of the road, then rolled about 15 to 20ft down an embankment.
"It ended up on its roof and I was caught in my seatbelt, hanging upside down.
"I was really scared because it was dark and I didn't know if the car was going to fall any further."
She added that she had been frightened to get out of her seatbelt because she was hanging over the windscreen and did not know if it was resting on the ground.
She said: "All my doors were stuck. I'm not sure if it was the impact from rolling or all the trees and shrubs around my car, but I couldn't get out.
"My phone had died so I couldn't call for help.
"I put my hazard lights on, but I was too far down the bank for car drivers to see me.
"Then a lorry came along and I heard someone shouting down asking if there was anyone in the car. I just shouted back: 'Help me!'.
"He came down to me, but he couldn't open the doors either.
"I eventually got my seatbelt off and landed awkwardly on my left shoulder on the windscreen then crawled along the inside of the roof and he opened the boot to let me out."
Ms Stewart is hoping to contact her rescuer to thank him for saving her.
She said: "I don't know what would have happened if Dougie hadn't come along and stopped when he did."
It is understood that the accident yesterday morning happened while police were putting tape around Ms Stewart's car until it could be recovered.
Stewart MacLean, of the A82 Partnership, said: "We are calling for an investigation to see what changes have been made in this area in the past few weeks and for the problem to be rectified."
He added that a similar situation closer to Corran Ferry a few years ago had been resolved by coating the carriageway with an anti-skid surface.
A police spokeswoman confirmed that the two accidents had been reported.
She added that two further accidents had been reported at this location on July 7 and July 15.
A spokeswoman for Bear Scotland said the agency's teams visited the site yesterday morning to make the area safe by checking the bend for oil spills or any other hazard, however nothing was found that would impact on the carriageway surface.
She said: "Safety is a top priority and we constantly monitor all trunk roads for any signs of deterioration.
"However, as an additional measure we will be adding the location to our grip-testing programme to see if any further action is required to improve grip on the carriageway surface."