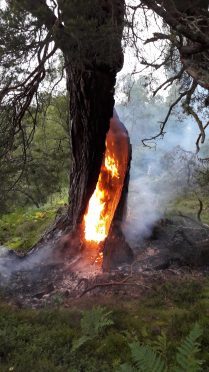 An ancient Scots Pine on a Highland estate has been destroyed by campers starting a fire.
Quick action by rangers working at Rothiemurchus Forest and the fire service prevented the blaze from becoming a potentially disastrous wildfire.
But a 250-year-old pine was destroyed.
The fire broke out next to Lochan Mor, commonly known as the Lily Loch, at about 7.40am.
Campers had chopped down two birch trees which they used to make an open fire under the 250-year-old pine, which caught light despite the torrential overnight rain.
Fortunately rangers were helping to move cattle before the roads became busy and spotted smoke in the forest and called the fire service.
Lighting open fires in woodland, cutting down trees to make a campfire and damaging protected species are criminal offences.
But the campers had vanished by the time the rangers arrived on the scene.
Julian Orsi, Rothiemurchus countryside manager said: "These campers have not only broken the law, they have behaved in a shockingly irresponsible way. They had disappeared by the time we arrived, as they probably panicked.
"It's not just the lasting damage to one of the jewels of this area, internationally recognised for its wildlife and bio-diversity, people could have been hurt as a result of this selfish behaviour."
"We would urge people to take care when they are visiting Rothiemurchus forest.
"This shows that trees and heather can catch fire to get out of control even when it's wet. "
The destroyed tree is close to a popular path from Inverdruie to Loch an Eilein.
It lies within a Natura 2000 site because of the richness and diversity of its wildlife species and habitat.
Estate owner Philippa Grant said: "Rothiemurchus is a very special place. We're at the heart of a forest that goes back eight thousand years and is a major part of the Cairngorms National Park.
"We would ask people to think very carefully before they do anything which could impact upon an environment which will take hundreds of years to restore.
"It's only a tiny proportion of visitors who behave stupidly and we are extremely grateful and thank all those who help care for this special place."
A spokesman for the fire service said that one unit from Aviemore had attended and helped extinguish the fire, although he added that the tree had been "destroyed".