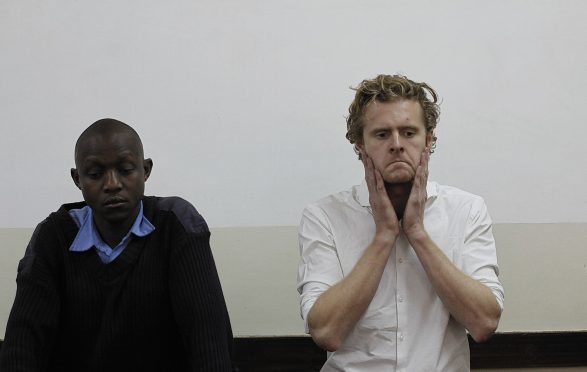 A Highland aristocrat's son has appeared in court in Kenya accused of trafficking cocaine worth £3million.
Jack Marrian – whose mother is Lady Emma Campbell of Cawdor, daughter of the late 6th Earl of Cawdor – denied the charge at Kibera Law Court in Nairobi.
His father, artist David Marrian, last night confirmed from Kenya that his son was involved in a court case.
He told the Press and Journal: "You have no idea what I'm going through."
Jack Marrian is head of South East Africa Sugar Trading at ED&F Man Sugar Ltd, managing director of Mshale Commodities Ltd and director of Kilombero Sugar Company.
The haul of drugs – weighing 220lb and understood to have come from Brazil – was seized at Kenya's main seaport Mombasa.
The prosecution opposed bail yesterday, claiming Marrian was a "flight risk" and the court is due to rule on the bail application on Monday.
A second suspect, who police have said is Kenyan, was expected to be charged later.
It was not clear what happened to a third suspect, also Kenyan, who police questioned.
Lady Emma could not be contacted last night, but Marrian's aunt Lady Liza Campbell, an artist and writer living in London, said neither she nor her sister wanted to speak about it.
Lady Emma and David Marrian have two other sons, Hunter and Finlay.
Hugh Campbell, the 6th Earl of Cawdor, owned Cawdor Castle near Nairn, famous for its links with Shakespeare's Macbeth.
A family feud erupted between the Earl's second wife Lady Angelika and her stepson, Colin Campbell, the 7th Earl, when the old Earl died at the age of 60 in 1993 and left the imposing castle to his widow.
Some of the rows led to court action, and at one point the earl tried to occupy the castle with his wife and children.
There was also a dispute over a bronze cannon and an E-type Jaguar which was settled out of court.
Lady Angelika now runs Cawdor Castle as a visitor attraction.
The drug seizure was a rare one in Kenya, which the UN and the US say has become a cocaine distribution centre in recent years.
Traffickers from South America take advantage of Nairobi's extensive air links to Europe and Asia.
They also exploit Kenya's long Indian Ocean coastline and lack of adequate security controls at Mombasa, according to the state department's 2016 drug control strategy report.
It describes stemming the flow of drugs as a challenge for Kenyan authorities, citing "corruption within the Kenyan government and business community" and says "high-level prosecutions or large seizures remain infrequent".
For more than a decade, Kenya's police have been named annually by the local chapter of the global anti-corruption watchdog Transparency International as the most corrupt institution in the country.