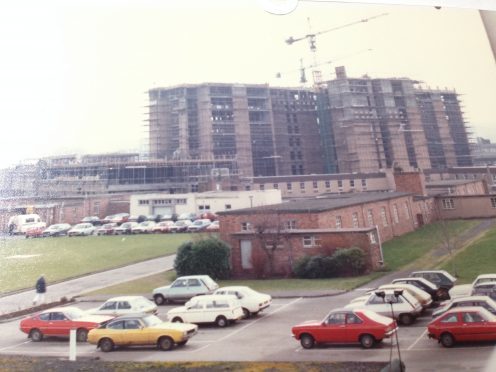 The north's flagship hospital celebrates its 75th anniversary today.
Work began on Raigmore Hospital in Inverness in June 1940 – and the first wards formally opened on September 5, 1941 at the height of World War II.
To celebrate the significant milestone NHS Highland has opened its archive with a number of fascinating pictures showing the evolution of the hospital complex over the decades.
Among them are pictures of some of the original layout and their eventual demolition as the hospital evolves.
In 2016, the Raigmore tower block dominates the Inverness skyline from many directions.
And among the archive photos made available by the health board are photos of the tower being constructed in 1982 – marking phase two of the hospital's lifetime.
The hospital took its name Raigmore House and estate which stood where the Raigmore housing estate is now.
The original builders were Jas Campbell & Sons, Tomnahurich Street – one of the largest firms in the north – with joinery by MacDonald of Friars Lane.
Most of the wards were constructed in six months at a cost of around £250,000.
At points in construction around 600 bricklayers were working 12 hour shifts to complete the project – though despite the urgent wartime need, Sunday working was never allowed.
Because of the war there was a shortage of steel and timber was forbidden as a structural material so brick and concrete slabs were used with a minimum of steel reinforcement.
The first patient was a Canadian from the Carrbridge based Canadian Forestry Corps, who built a recreation hall or log cabin for the site in 1944.
In its first year Raigmore saw 4142 patients.
Local historian Jim Leslie has closely studied the north's hospitals and said the original layout of Raigmore made life challenging for medical staff.
He said: "The separate wards were quite inconvenient, especially in winter when staff and visitors arrived cold with grit and mess brought in with their feet.
"The internal corridors were open due to a brick shortage and the open walkways between wards were not popular in Inverness winters when trying to keep uniforms tidy in the snow-filled northern winds but were an improvement on early days when wellington boots were required between some ward blocks."