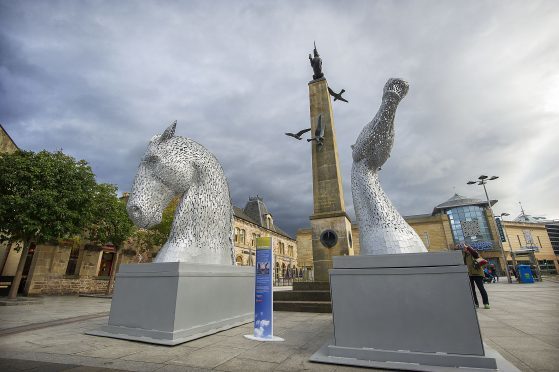 Scale models of The Kelpies have taken up residence in Inverness's Falcon Square.
The structures are in the city ahead of the World Canals Conference, which is set to welcome more than 300 global delegates.
The one tenth scale maquettes will stand in the Highland Capital's Falcon Square from September 12-25.
The visit follows the sculptures' stay on the Caledonian Canal at Neptune's Staircase, the longest lock flight in Britain. The 10ft tall maquettes, which have toured the world helping to promote Scotland and the Falkirk area as a visitor destination, have previously appeared at major events including New York's Scotland Week, the Grand National and the Ryder Cup.
Returning to Scotland for the first time in a decade, the four-day World Canals Conference begins on September 19.
It will see more than 300 international waterway experts, business leaders and global professionals celebrate innovative thinking and cutting-edge delivery in a range of disciplines including sustainable tourism development, regeneration, heritage management, climate change and engineering within the iconic landscape of the Scottish Highlands.
Steve Dunlop, Chief Executive of Scottish Canals, said: "The World Canals Conference is set to showcase everything that makes the nation's historic waterways such incredible places and we're delighted to bring The Kelpies maquettes to their temporary stables in Inverness to help welcome our attendees to Scotland.
"These magnificent monuments to horse-powered heritage have captured the imaginations of people the world over. They're a towering tribute to the industrial past of Scotland's canals, a shining symbol of their bright future, and the perfect way to greet World Canals Conference attendees who are jetting in from all over the globe.
"I'm sure the maquettes will prove popular with both our visitors and the people of Inverness and have no doubt we'll see more than a few Kelpie Selfies over the duration of the conference."