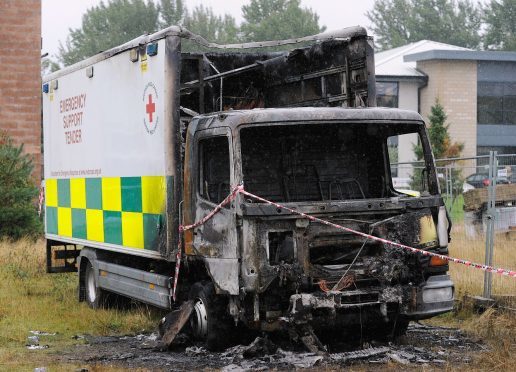 A teenager has been charged in connection with a fire which destroyed a Red Cross truck parked outside the charity's Inverness base.
The truck, packed with thousands of pounds worth of life saving equipment, was found burned out after the overnight fire on Tuesday, September 13.
The blaze was initially treated as "unexplained" by emergency services.
A full fire investigation was carried out by police officers and the fire service.
And yesterday police confirmed that an 18-year-old man is now set to appear in court in connection with the incident.
In a statement a police spokesman said: "Following reports of a Red Cross Lorry having been set alight at Cradlehall Business Park, Inverness on Tuesday, September 13, it can now be confirmed that an 18-year-old male has been charged and will be appearing from custody.
"Police would like to thank the public for their assistance with this matter."
The British Red Cross are understood to be still assessing the extent of the damage to equipment which was stored in the back of the Mercedes Altego truck.
The vehicle was one of several trucks parked near the international humanitarian aid charity's Inverness base at Cradlehall Business Park off Caulfield Road North.
The cabin and part of the trailer were extensively damaged by the blaze, which was discovered in the early hours of the day.
The trailer was also packed with vital equipment, used by the charity at major events and for emergency responses.
Among the items in the truck were emergency response bikes, trolley beds and gazebos.
Immediately after the fire the charity said that "at least" some of the items were damaged, though it is understood that they are still assessing the extent.
After the fire a spokesman for the British Red Cross said: "The vehicle is an important part of our emergency response and event first-aid capability, but the Red Cross is very experienced in dealing with crises and this will not affect our ability to deliver help to people who need it."
The truck is used by Red Cross volunteers to set up positions at events, such as music festivals, where trained staff can be on hand to provide first aid.
It is also used to deliver vital supplies to Red Cross staff around the region and is also used to respond to emergency events where humanitarian aid is required.