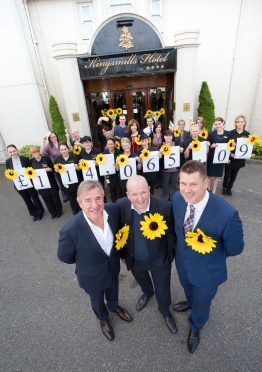 Staff at the Kingsmills Hotel in Inverness have smashed their fundraising target of £100,000 which they pledged for Highland Hospice.
Over the past two years, the hotel has raised £114,000 which will go towards funding one of the new patient bedrooms within the hospice's brand new inpatient unit, which is due to open its doors next month.
Amongst their fundraising activity, the hotel staff have set up bars and coffee bars at various sporting events, done bungee jumps, trekked across the Grand Canyon, held a masquerade ball, asked guests to pay £1 if they enjoyed their stay, sold tickets for the Great Highland Car Raffle, hosted a quiz night and held two golf days with charity dinners.
The inspiration for the drive to raise £100,000 came from their managing director, Tony Story, with the hospice holding a special place in his family's hearts.
Kingsmills Hotel general manager Craig Ewan said, "When Tony approached me and said he wanted us to commit to raising £100,000 for this fantastic new facility at Highland Hospice, we had no idea of the challenge that lay ahead of us.
"It was only when we got to around 20% of our target that we realised it was going to be more difficult than we had initially anticipated.
"We are fortunate in that the Highland community are so very generous, but there are so many very worthy causes and only so many people able to support them."
Highland Hospice chairman Norman Macdonald said, "On behalf of everyone at Highland Hospice, I would like to say a heartfelt thank you to Tony, Craig and their entire staff who got behind this pledge.
"For one company to have raised such a huge sum is truly inspiring and shows real commitment to the cause."