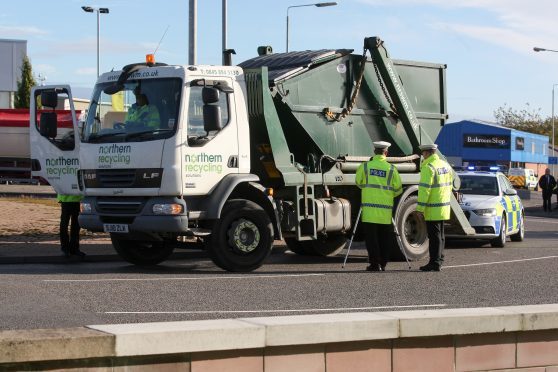 An elderly male pedestrian was taken to hospital yesterday after he was thought to be struck by a lorry at a busy Inverness roundabout.
Emergency services were called to the scene at Harbour Road Roundabout at 10.55am after police received a report that a man had been hit by the vehicle.
It is understood the collision happened close to the junction with Harbour Road east, but a Northern Recycling lorry was parked up about 20 yards further on, mid-way into the roundabout.
Huge tailbacks formed as the dual carriageway section of the A82 road was reduced to one lane as police directed traffic around the lorry and towards Longman Roundabout.
The pedestrian, thought to be in his 80s, was taken to Raigmore Hospital by road ambulance to be treated for his injuries.
A police spokeswoman said: "Emergency services attended the incident around 11am. An elderly male pedestrian has been taken to Raigmore hospital but is not believed to be in a life threatening condition."
Another pedestrian, Malcolm Macallum, arrived on scene just minutes after the collision yesterday.
He said: "I was just walking along Harbour Road and saw the tailbacks building up and when I got to the roundabout there was a woman standing over a man, who was lying on the ground, and another woman getting out of her car. There was a tailback all the way to the Longman roundabout at least and to the Bank of Scotland on Harbour Road."
Mr Macallum added that he saw the man lying on the ground at the junction to Harbour Road east, close to the American Golf store.
Yesterday at the scene, police accident investigators could be seen examining the lorry, which had come to rest in the inside lane closest to the roundabout.
They were focusing on the area around the radiator at the front of the vehicle, underneath which a patch of liquid could be seen on the ground.
A set of four orange cones had been placed in an area by the junction with Harbour Road at the location where the pedestrian was believed to be hit, and investigators also took photographs of the scene.
The westbound section of the A82 dual carriageway was closed from the junction at Seafield Road to Rose Street Roundabout as police directed traffic. Access from the roundabout to Harbour Road east was also cut off.
This resulted in tailbacks from Harbour Road Roundabout to the west, and to the south east all the way along the A9 back to the Raigmore Interchange.
The road was fully reopened to vehicles at about 12.30pm.