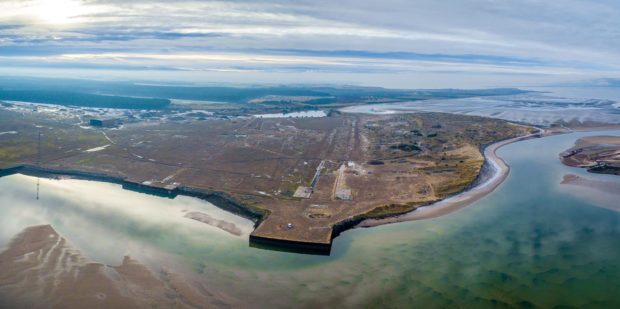 A huge former Highland fabrication yard has been sold in a £5million deal.
But mystery surrounds the deal with no information on how has purchased the site or what its future use will be.
The former McDermott Yard near Ardersier was put on the market earlier this year after its previous owner Port of Ardersier went into administration.
The completion of the sale was only revealed in a progress report by administrators KPMG.
The report revealed that six offers were made for the site – and that one worth just over £5million was completed on Friday, July 8.
In the report KPMG said: "Based on the valuation advice provided by our agents at the start of the marketing process, the sales price achieved is considered a very good outcome."
However, the document does not shed any light on the sites future use or new owners.
KPMG and their selling agents declined to comment when contacted yesterday.
Business and community leaders in the area also admitted to being in the dark about the completed sale.
Inverness Chamber of Commerce chief executive Stewart Nicol said he was unaware of the sale but was encouraged by progress on the site.
He said: "It seems a very positive development to me.
"Obviously the new owners at some stage will want to make a return on their investment at the port and I look forward to hearing about what is planned."
The McDermott Yard once employed thousands of workers constructing oil and gas platforms but closed in 2001.
Plans to create 2,500 jobs at the facility at Whiteness, near Nairn, collapsed last year when Port of Ardersier, went into administration.
When the site was put up for sale in February it was specified that it should be taken on in its entirety, rather than being broken up.
It includes 340 acres suitable for development and a 3,280ft-long harbour protected by a sand and shingle bank.
Planning permission in principle remains live from 2014 to establish a port for the energy industry, as well as previously-approved planning consent to build 2,000 houses, a hotel, 500-berth marina and retail and leisure facilities.