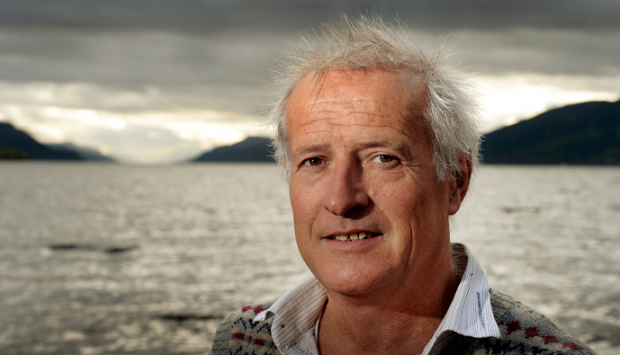 A Nessie hunter who has devoted 25 years to trying to find the elusive monster has bagged an award for promoting Loch Ness to the world.
Steve Feltham, who has spent half his life as a full-time monster seeker, was honoured at the Highlands and Islands Tourism Awards (HITA) yesterday.
He was named Ambassador of the Year for his dedicated hunt for the mysterious creature at Loch Ness.
His fascination with the loch began during a family holiday in 1970 which included a trip to the Loch Ness Investigation Bureau – a team of volunteers who set up a camp next to Urquhart Castle each summer.
The idea of grown men searching for monsters thrilled him, and his interest grew over the next decade.
Then, in 1991, he gave up his house and job in the family burglar alarm company in Dorset and moved to the Highlands to pursue his dream.
He settled at the foreshore of the village of Dores, where he keeps watch while building clay model Nessies – his only source of funding.
The Guinness Book of World Records have already honoured him for the longest continuous vigil hunting for the Loch Ness monster.
And in those 25 years he has become well know with locals and tourists.
Businesses around the loch say he is an asset to tourism, while awards organisers say he is a walking PR company for Loch Ness after featuring in television programmes and articles about Nessie.
He said: "Winning this award makes me realise that what I've been doing for two and a half decades doesn't just make my heart sing, it has a knock-on effect for the tourism industry in the Highlands of Scotland."
The Ambassador title is a special award given by the HITA Board to an individual who 'goes the extra mile' in contributing to the success of tourism in the Highlands and Islands.
Chair Craig Ewan said it was fitting to make the award in Steve's 25th year at Loch Ness.
He added: "Our worthy winner has immersed himself in a narrative which has become as popular as the area, attracting over one million visitors annually and generating in excess of £30 million to the local economy.
"He has contributed to the legend and become part of one of the greatest unsolved mysteries of the world.
"He has promoted the area all these years through countless television and media appearances, entertaining tourists and celebrities alike who have come to see the loch and purchase one of his hand-crafted model Nessies."
Other award winners at the event, held in Inverness, included Cafe Canna, the only cafe on the small Hebridean island, and Oban Winter Festival, which features events over 10 days.