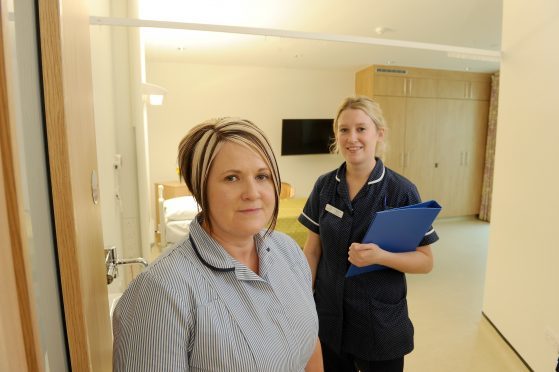 The impressive new Highland Hospice in Inverness has opened its doors to its first patients.
It follows more than three years of fundraising and 18 months of construction to deliver the purpose-built facility, which will transform end-of-life care in the north.
Inpatient services have been delivered in the Fyrish ward of Invergordon Community Hospital while the new building was under construction – and yesterday two patients were transferred to Inverness to become the first residents.
With the new unit up and running, more admissions are expected in the coming days.
The facility can house up to 10 patients at any time between nine single rooms and a three-bedded room.
The new facility replaces the old hospice which had only four single rooms and two three-bedded rooms, all of which smaller than the modern guidelines.
Andrew Leaver, the hospice's head of fundraising, said: "This is a red letter day for Highland Hospice.
"Our first inpatient unit opened in November 1988 and now 28 years later, with the fantastic and humbling support of the Highland public, we are able to open the new Highland Hospice to patients and families.
"With this fantastic new facility as our bedrock, we need to continue our work with partners to deliver and support care across the whole of the region and truly live up to our name – Highland Hospice."
As well as building a brand new inpatient unit the charity has upgraded and converted all its existing buildings.
The renovated day therapy unit welcomes patients for the first time on Tuesday, offering a range of social activities and clinical support.
The new hospice is the culmination of a massive fundraising effort which has been raised through the charity's Project Build Appeal which has raised £4.3million to date.
An initial £3million of hospice reserves was put in place to fund the facility.
The new Highland Hospice also provides a focal point for expanding palliative care and support across the Highlands and the charity is looking to work with NHS Highland to develop services.