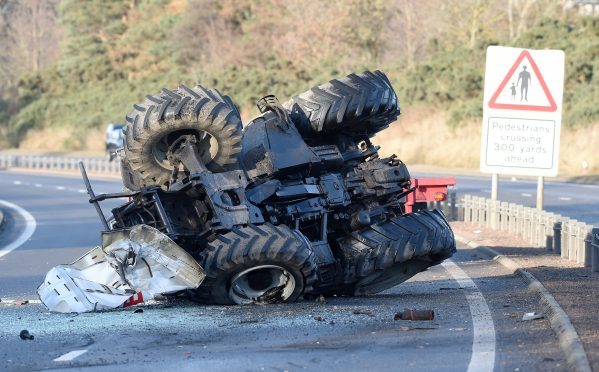 A driver spoke of his "lucky" escape yesterday after a tractor hit his removal van on the A9 dual carriageway as he drove into Inverness.
Emergency services attended the crash on the northbound approach to the city, on the downhill section of Drumossie Brae, shortly before noon.
A long queue of traffic formed and traffic was being diverted via the B9177 road.
The A9 northbound section reopened shortly before 3.30pm after a vehicle recovery unit came from Elgin and removed the tractor.
Police said the male driver of the tractor was thought to only have minor injuries and that an ambulance attended.
At the scene yesterday, Aberdeen van driver Mark Bullen, 35, said that he thought he "was a goner" when the tractor struck the left side of his vehicle.
Mr Bullen, who owns his own removals company, said he was "shaken up" by what happened, adding: "I saw the tractor's wheels lock up as I was passing it in the right lane and there was nothing I could do. I just had to brake, I did not have a choice.
"I feel I am fortunate that I'm still here and I am lucky that I managed to control it. Luckily I had the winter tyres put on last Friday otherwise I might have ended up in the trees.
"Afterwards, the tractor driver came running over to me to see if I was okay. Fair play to him for doing that. He was quite shaken up by it. He said that he had a really sore head, but he seemed okay."
Yesterday at the scene, the tractor could be seen on its side in the overtaking lane of the dual carriageway, and broken glass and oil was strewn across both lanes of the road.
The left sliding door of the removals wan was still jammed into the front of the tractor itself, leaving a gaping hole in the left side of the van.
Mr Bullen said that the collision happened about 60 yards further up the hill from where his van came to rest on the left grass verge.
He was transporting furniture from London to a home in Inverness – with an overnight stop in Stirling – when the accident happened, three miles from his destination.