Bats, badgers, red squirrels and pine martens could be among the species affected by a major new road between Inverness and Nairn.
An environmental assessment of the new dual carriageway on the 19-mile stretch of the A96 has revealed the potential threat to a range of habitats.
The scheme is the first phase of a £3billion project to dual the entire length of the road from the Highland capital to Aberdeen by 2030.
A total of six flyovers will be created between Inverness and Nairn, and the public will get the chance to have their say at a series of consultation meetings next week.
Draft orders were published this week for the proposed scheme, which would require to take about 25 acres of residential, commercial and industrial land, including the acquisition of one property.
Another 190 acres would be taken from land earmarked for new development, as well as 605 acres of agricultural land, half of which is considered "prime", and 116 acres of forestry and scrubland.
The environmental statement noted that six bat species were present in the vicinity of the proposed road, and that there could be a "permanent and negative" impact to the population during removal of roosting habitat or by vehicle collision.
A total of 272 badger setts were also recorded in the area, and a similar permanent and negative impact was highlighted as a risk, although it added that "given the large and wide ranging population in this area it is unlikely to have a significant effect on the status of the badger population in the area".
Red squirrel and pine Marten populations were also recorded along the route, with a risk highlighted of "permanent reduction in availability of habitat to red squirrel and pine marten that rely on it for food, shelter and breeding".
Similar effects were raised for fish species including the Atlantic salmon, trout and European eel.
The report said: "Potential impacts will be mitigated through the application of best practice guidance for construction and operation together with specific measures such as provision of bat boxes, creation/enhancement of habitats through replacement planting, and inclusion of fencing to direct animals to safe crossing points.
"The proposed Scheme also includes embedded mitigation as part of the design such as dry mammal underpasses and an enhanced overbridge.
"There are no significant long-term negative residual impacts on terrestrial or freshwater receptors following implementation of proposed mitigation measures.
"Significant positive residual impacts are anticipated with increased safe permeability for species including badger and otter through provision of suitably designed crossing locations."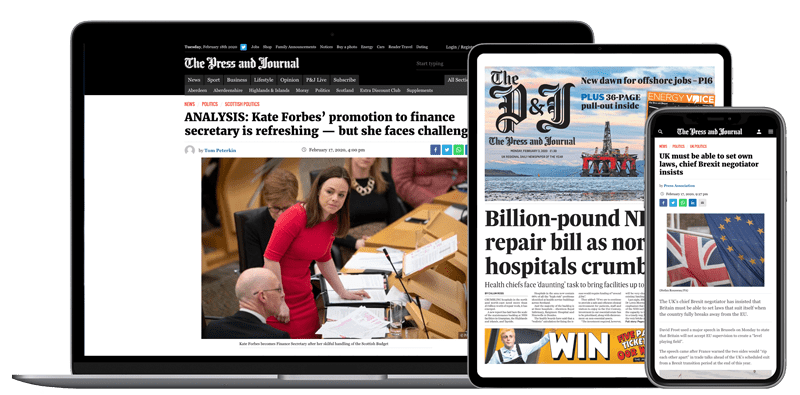 Help support quality local journalism … become a digital subscriber to The Press and Journal
For as little as £5.99 a month you can access all of our content, including Premium articles.
Subscribe