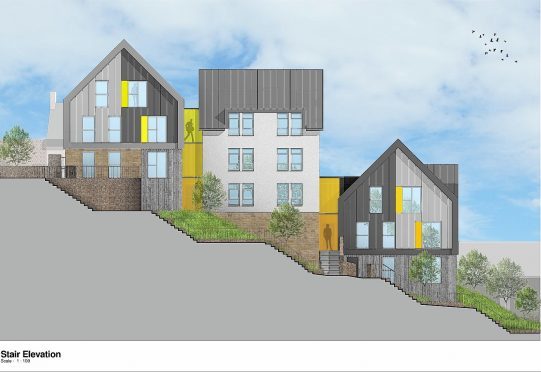 New life will be breathed into the largely derelict properties that line Dr Raining's Stairs in central Inverness with the construction of 16 innovative new homes.
Councillors yesterday approved a planning application by local housebuilder Ark.
The home buyers will need to be green, as the development will reduce the number of existing parking spaces by one to just two, and both for disabled drivers only.
While residents were largely in favour of the application, the south planning commmittee debated at length a wide range of issues from access and lighting to vegetation growth and access security.
It ultimately welcomed the plans on the condition that ward councillors would work closely with the developer to ensure the various concerns were addressed to their satisfaction.
Committee member Thomas MacLennan found the design of the flats – and single commercial unit – "refreshing and innovative in a constrained and difficult site."
Willie Gray, managing director of William Gray Construction and its sister company Ark Estates, said: "We're thrilled the application has been approved.
"This was an incredibly difficult site and getting to this stage has taken a lot of time and effort.
"The final design is the result of a collaborative process led by Martin English of 360 Architecture and involving the planners and the ward members."
He said the project would help improve a neglected part of the town, attract new business and boost the local economy."
Construction work is expected to start by next spring.