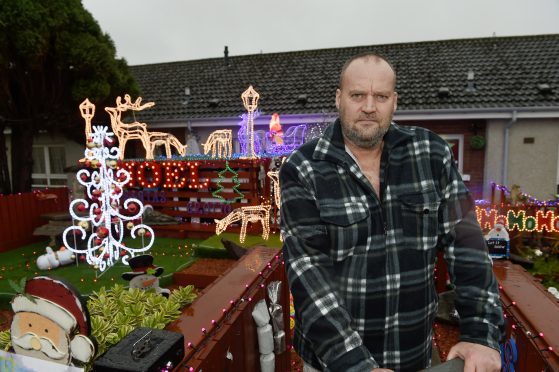 An ex-soldier has vowed to battle on with charity fundraising despite having a children's Christmas grotto in his front garden shut down by the council.
Inverness council tenant Robert Russell has been raising money through donations for a prominent festive lights display.
The local authority has, however, pulled the plugs on the grotto after complaints.
Mr Russell, a retired Gordon Highlander and cancer survivor, has raised several hundred pounds for the Maggie's charity since illuminating the space in Oldtown Road, Hilton, since early December.
Speaking yesterday, he said: "I'm gutted. I was just trying to do something at this time of year for people who've got nothing. I know what it's like to have nothing because I used to sleep on the street.
"There was no need to complain. I'm footing the leccy bill. I bought the treats and the toys.
"They checked electricity points. The police got involved as well and made me do disclosure forms because I'm doing this for kids. Because kids are always accompanied by a parent, they told me I was covered.
"That's why I put the notice up at the gate – no kids without an adult."
Mr Russell was treated for cancer shortly after suffering a heart attack. He has since had the all-clear.
"I'll carry on with the lights as long as my health lets me," he said. "Next year I'll be more organised with the council. I'll put in my letter three months in advance."
He added: "There's still a collection tin at the gate if anybody wants to put money in, but all I'll do for now is the Christmas lights display."
A spokeswoman for Highland Council confirmed that the collection of charity money at a private property did not require a licence.
She said: "We can't comment on individual tenants' circumstances but our housing service responded to complaints received about a council housing address at Oldtown Road, Inverness."
She added that any business operated from a council home needs council approval and that it "will take into account the likely effect on the neighbours and the suitability of the property for the proposed use."
Maggie's fundraising manager Andrew Benjamin said: "Robert has done wonders raising money for the charity but at the same time he's raising many smiles. He's giving something back to the community after overcoming a cancer scare of his own. We're truly thankful to him for his efforts."