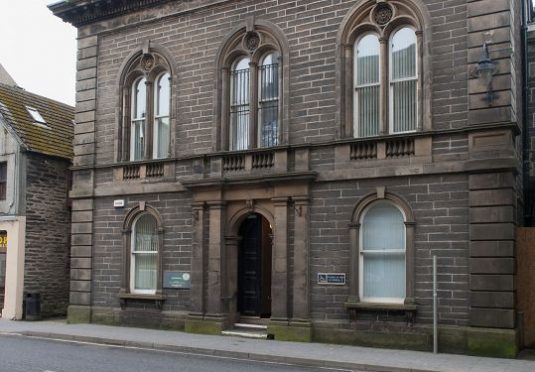 A pensioner who was rushed to hospital after a serious accident in the Highlands was told by medical staff that he should not have been behind the wheel.
Eighty-year-old David Warren, of Upper Burnside Avenue in Thurso, admitted a charge of dangerous driving at Wick Sheriff Court.
His car was observed swerving, mounting the pavement, driving on the wrong side of the road and failing to negotiate a junction before colliding with a mortgage shop in Princes Street, Thurso, on August 17.
He had a blood infection which, it was thought, could have impaired his ability to drive.
His licence was subsequently suspended by the DVLA and the retired manager opted to surrender it after more than 40 trouble-free years behind the wheel.
Sheriff Andrew Berry admonished him yesterday, saying it would be "inappropriate" to fine him but had to impose a mandatory driving ban of a year.
Warren sustained a broken sternum in the accident, two broken ribs and internal bleeding within the bowel area.
In court Warren, who did not have legal representation, said that prior to the accident he was being treated with prescription drugs for his blood infection but he had not been advised not to drive.
He told Sheriff Berry: "I am just grateful that no-one was injured in the accident."
Sheriff Berry, who was told that Warren had covered 20,000 to 30,000 miles a year when he was working without any trouble, informed him that he was duty bound to disqualify him, although it was a technical ban as the accused would not be driving in any case.
Warren said: "I have accepted that my driving days are over."
Sheriff Berry told him: "You have a long life of decent behaviour and driving without a blemish.
"The circumstances of the accident would have caused those who saw them some concern, but it was not deliberately occasioned on your part.
" It seems that justice would be served by admonishing you. I think it would be inappropriate to fine you."