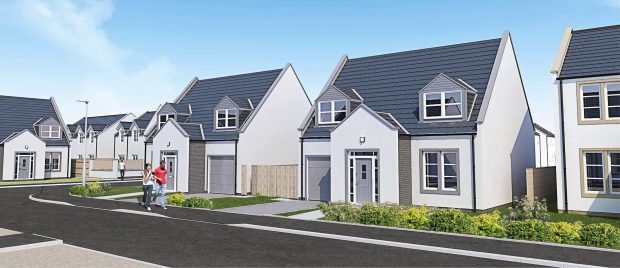 A flood of planning applications could lead to 222 homes being built in Inverness – on a site zoned for just 24.
Community leaders claim the site would be "10 times over-subscribed" if the three proposals for the Slackbuie area are approved.
They are also furious at that there are no community facilities included in any of the plans.
Work on 60 homes and a restaurant over nine acres – half the zoned site – near the Slackbuie Asda is already under way.
Tweed Estates and Kirkwood Homes secured approval in September for a mix of three-bedroom terraced and semi-detached houses, and three and four-bedroom detached luxury homes.
At the time, city councillor Jim Crawford warned the agreement was "giving the wrong signals to developers".
Now plans have subsequently been lodged by two other developers for elsewhere on the hillside site, which was designated within the Inner Moray Firth local development plan for "mixed-use for business, retail and 24 homes."
Aberdeen-based Redco has submitted a "proposal of application notice" for "circa 80 units" at the site, while Barratt Homes has plans for 82 homes on the remaining area of the site.
Councillor Ken Gowans, who represents Inverness South, last night raised concerns that none of the developers had mentioned providing essential community facilities alongside the houses.
"This is now 222 homes, plus a pub and no community facility, no school. This is 10 times over subscribed – or 1,000%.
"You're talking at least 70 more children, that's three classrooms. Where would they go to school? It's just madness."
Inverness South Community Council secretary and planning spokesman Bob Roberts added: "It's totally against the development plan. I was told by (head of planning) Malcolm MacLeod the 24 figure was 'only indicative'.
"Is there employment for the new influx? Are these homes really needed?"
He echoed Culloden councillor Roddy Balfour's previous calls for more social housing rather than so-called "affordable" housing, which 25% of all new Highland homes must be under council rules.
A council spokeswoman for Highland Council said: "Any proposal for major housing developments in this area will be subject to pre-application consultation with the local community.
"If planning applications come forward they will be treated on their merits, taking into account the indicative capacities set out within the local development plan and all other material considerations."
Previous proposals to build a £10million medical centre on the site were scrapped.
Douglas McLeod, regional director at Barratt Scotland, said: "We're currently preparing a planning application which will be submitted in the New Year. The development will enable us to continue our long-term investment in the city and build on the success of our current site at Ness Castle."