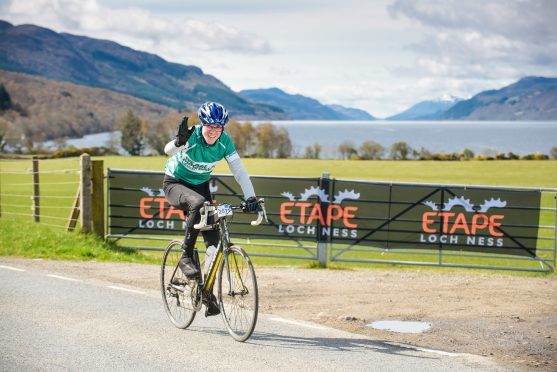 More than 1,000 cyclists are planning to saddle up to help a cancer charity reach a £200,000 fundraising target at the Etape Loch Ness event next year.
The 66-mile closed road event, which takes place on April 23, is one of the most popular in the country's cycling calendar.
General entry sold out in a record 50 hours, with spaces reserved for Macmillan charity riders, the official charity of the event, filling up soon after.
Capacity has increased to 5,200 places in 2017, which means that more cyclists than ever are raising funds for Macmillan.
Event director Malcolm Sutherland said: "Every year we are staggered by the generosity and determination of Etape Loch Ness participants, in particular those who have decided to use the event to raise money for charity.
"Their fervour for fundraising is second to none, and we are incredibly proud to provide a platform for their efforts.
"The feedback we get from cyclists every year – whether fundraisers or just biking enthusiasts – is that the route around Loch Ness provides one of the most scenic rides in the country.
"One participant said that although he had cycled in some of the most amazing locations around the world, it was Loch Ness that really took his breath away.
"Macmillan Cancer Support has been our official charity partner since the event began in 2014, and our riders have raised an incredible £444,220 so far.
"We look forward to another successful event in 2017, and wish all fundraisers luck in their effort to raise money for a variety of worthwhile causes."
All cyclists riding in Team Macmillan have been asked to raise a minimum of £100, however many go above and beyond to generate cash for the well-known charity.
The money raised at Etape Loch Ness will go towards providing specialist nurses in the Highlands, as well as providing financial support for cancer sufferers and their families.