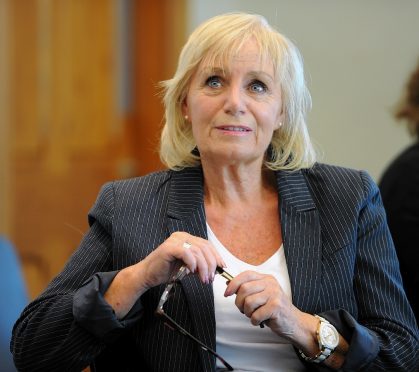 Inverness Provost Helen Carmichael
"We have great things to look forward to in 2017.
"Sure, we've faced unprecedented financial challenges over the past year and tough times lie ahead for the council and everyone else. But iconic projects and a further boom year for tourism will make for exciting times.
"The City Deal investment will come into place along with the evolving Inverness Castle development for tourists and Scotland's first new justice centre.
"We're optimistic of making headway with the redevelopment of both Academy Street and the railway station.
"Yes, budgets remain tight but we've rolled up our sleeves and we're ready to face the challenges ahead.
"The Highlands and Inverness enjoyed a record year for tourism in 2016 – and I'm looking forward to another record in 2017."
Stewart Nicol, Inverness Chamber of Commerce chief executive
"2016 was certainly a year of challenges and a lot of change and going into 2017, I would be reflecting very significantly on all the upsides and opportunities because there is going to be ongoing change in among all that as politicians and nations work things through. It's a great opportunity for Highland business to seize these opportunities."
Ian Blackford, SNP MP for Ross, Skye and Lochaber
"May I wish you a Happy New Year and hope you have a good time in celebrating its arrival.
"It has been quite a year in Westminster, with Brexit, the resignation of David Cameron and the many issues I have spoken on.
"There was the Brain family and the case of Gloria MacLeod, both threatened with deportation, but allowed the right to remain after long discussions with the Home Office.
"And in December came the wonderful news that the Rio Tinto Alcan Smelter and Power operations in Lochaber had been bought as a going concern by SIMEC.
"In 2017 I will continue my work as the MP for Ross, Skye and Lochaber, fighting for local issues of great importance to individual constituents, organisations and business as well as playing a full role in national and international questions which could affect the lives of people across the globe."
Highlands & Islands Regional MSPs Rhoda Grant and David Stewart have taken the opportunity to thank their many constituents for their support and assistance over 2016 as they strived to make a difference across the Highlands & Islands.
Rhoda Grant said: "I am fortunate to be in a position to serve as best I can, the people of the Highlands & Islands, an area the size of Belgium, comprising many scattered and isolated communities, which have in many cases unique challenges to contend with. I hope that my team and I over 2016, did our best to service the needs and the aspirations of those who made contact with us. The highlight of the year for me is when I get the opportunity to go out to all corners of the region and meet constituents and business people from Shetland in the North, the Western Isles in the West, down to Argyll in the South West corner and across to the East and Moray."
"It's been a challenging year for us all and I suppose 2017 will come with it's own set of issues, but I would like to take this opportunity of wishing all constituents a Prosperous and Happy New Year and I hope that as we approach the new year we can pull together, look out for each other and think about the kind of community and country that we would like to be part of. I know that my colleague David and I will do whatever we can for the benefit of those within the Highlands & Islands. On a wider scale, Living in a world more at peace is one priority I am sure we would all like to see."
David Stewart said "It's that time of year again when we look back over 2016 and ahead to 2017. There will always be challenges, but it is how we deal with them that really matters."
Standing up for the needs, desires and ambitions of the Highlands & Islands and it's people is one of the key priorities for my colleague Rhoda and I. The Highlands & Islands region includes Moray and Argyll and Bute, which is a massive area to cover, but with the support of our team and the many constituents and local businesses and organisations I am content that we have done the best we could over the last 12 months. Looking forward I am relishing the challenges that will be thrown up in the months to come and I will look forward to working in partnership with so many as we do our best to make our communities welcoming, strong and economically sound. I wish all constituents a very happy and refreshing 2017."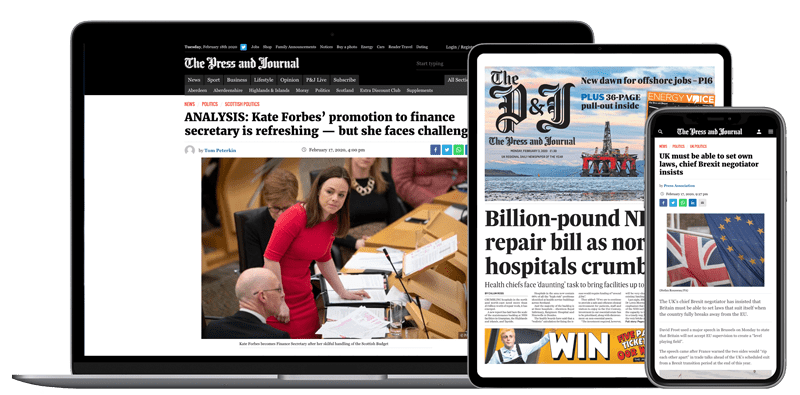 Help support quality local journalism … become a digital subscriber to The Press and Journal
For as little as £5.99 a month you can access all of our content, including Premium articles.
Subscribe