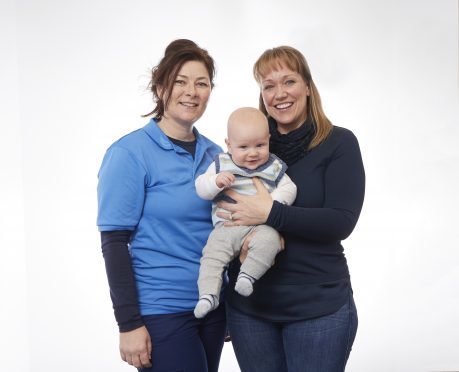 A midwife from Inverness has been honoured with a top national award for her care of a mum having her first baby in 18 years.
Claire MacPhee has been awarded the Emma's Diary Mums' Midwife of the Year 2017 for Scotland.
Ms MacPhee, who works for NHS Highland at Raigmore Hospital, was nominated by Inverness mum Debbie McDonnell for her caring work
Ms McDonnell was already a mum of three – but at 44 and with her youngest child born 18 years ago the pregnancy was regarded a higher risk.
She said: "Claire is an angel, the perfect midwife. She is an incredibly competent medical professional but importantly very lovely as well.
"She helped me enjoy the sometimes scary, sometimes difficult journey towards motherhood.
"This was my fourth baby with an 18 years gap since my last.
"Claire is by far the most wonderful midwife I have ever encountered, no question is too silly, no feelings unfounded.
"She was born to do this job and the profession is richer for having her."
Ms MacPhee added: "I'm extremely touched that Debbie took the time to nominate me. I am very much part of a team, all doing the same job in caring and supporting mums throughout their pregnancy, birth and beyond.
"Debbie and I have known each other for many years, with me performing her very first scan when pregnant with her first child, 21 years ago. To get this recognition from her is really wonderful."
Ms MacPhee will collect her award at an awards ceremony in London in March along with the other regional winners.
Cathy Warwick, chief executive of the Royal College of Midwives, said: "There is no better indication of the quality of care than that of the mother, so Claire should be hugely proud of this achievement.
"Claire has gone above and beyond to deliver high quality, woman centred care and I congratulate her for her commitment, dedication and for caring so much about the care she gives."