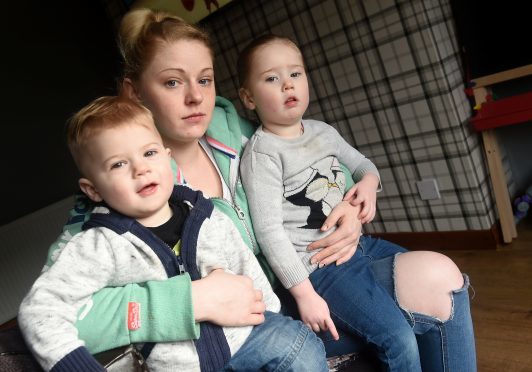 An Inverness mum-of-two has hit out at Highland Council after being left without proper heating in her home for eight months.
Rachael Grant said she had phoned the local authority almost every week since she moved into the property on the city's Rosehaugh Road last June – and has had at least nine visits from council officials.
But the heating has still not been fixed and her home remains "freezing", despite countless promises that action would be taken.
The 24-year-old shares the property with her young children, two-year-old Emily and one-year-old Zander.
She said the youngsters had to sleep in her room at night because of the cold.
Highland Council insisted last night that a new heating system had been ordered for the property, but Ms Grant said she had already endured many false dawns.
She said: "I couldn't count how many times I've phoned. I phone nearly every week. We've had about nine people out, maybe more.
"I moved in here in June last year and the woman did tell me that the heating was faulty but that the council were due to come out to look at it.
"It's an old electric one. It will go on once on a Monday for about 15 or 20 minutes and then it won't come on again until the next Monday.
"It has been freezing. I've been having to take the kids in my room at night time to make sure they are warm.
"It's costing so much as well. They sent someone over, and the people that come are always really nice.
"They said they would go back and say that the electric system was not working and say it would cost more to fix than put in gas.
"But there's just no-one actually doing anything about it."
Last night a Highland Council spokeswoman said the problem had been identified and the heating system would be replaced soon.
"We have checked this out and the fault with the heating system has been intermittent rather than continuous," she said.
"A replacement heating system is on order and will be installed as soon as it arrives."