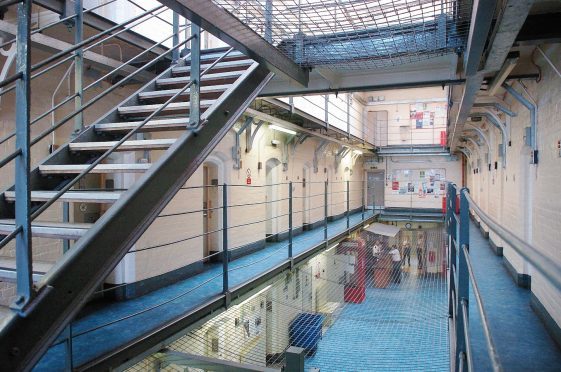 A community in the heart of Inverness is preparing for the "end of an era" as plans to move the city's 115-year-old prison progress.
Pat Hayden, chairwoman of Crown and City Centre Community Council, said the jail at Porterfield had been "good neighbours" and local residents "never have any problems".
The Scottish Prison Service (SPS) will this week lodge a planning application for a new £66million prison at the rear of the city's biggest retail park.
The plans will spell the beginning of the end for the existing facility in Crown area of the Highland capital, which was opened in 1902 and has an average of 117 prisoners in a building designed for 103.
If the new scheme gets the go ahead, guidelines mean the old prison building and site will first be offered to all other government departments in case they wish to take it on, and if not, it will go on the market.
At about two-and-a-half acres, Porterfield covers the smallest area of all Scotland's main prisons, which is why the SPS had to look at new locations rather than a redevelop the current facility.
It is also in one of the most sought-after housing locations in the region.
The Inner Moray Firth Local Development Plan envisaged the potential to build 30 new homes at the site.
Any developer would have to produce a masterplan and development brief with the local authority, including widening adjoining roads and potentially preserving the heritage of the buildings.
Mrs Hayden said: "It is the end of an era here.
"I suspect it may well be housing, though they would have to take the wall down a bit.
"The people I've spoken to who live there think it will be housing, but we'll have to wait and see."
SPS bosses turned their attentions to the retail park site in the West Seafield area after a vocal community campaign forced them to rethink a proposed location at Milton of Leys, near the southern gateway to the city.
But Mrs Hayden said that any neighbours of the new prison had little to fear.
"In Crown the prison is right in the middle and we never have any problems. They are good neighbours," she said.
"I think we appreciate that it was never intended for the numbers that they now have and overcrowding appears to be a problem.
"I'm hoping that they have finally got a site that is acceptable. People shouldn't worry about it. They should ask people that live around the Crown area."