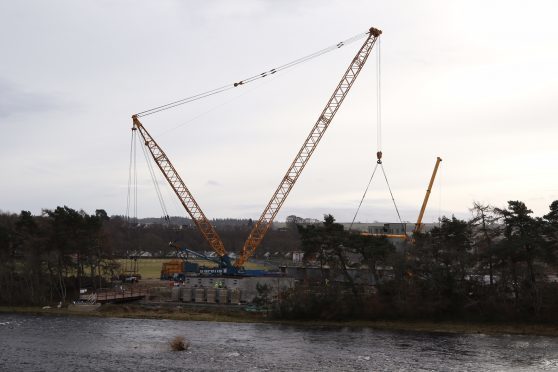 One of the biggest cranes in Britain has arrived in Inverness and is poised to start lifting giant steel beams into place for the new River Ness bridge.
No fewer than 35 lorries transported the machine – which is capable of lifting 1,000 tonnes – to the Highland capital at the end of last week.
It took three days to build, and the crane and its 600 tonnes of ballast weight were due to start lifting the steel beams in place on Monday.
The work was postponed because of high winds, and is now scheduled to get under way tomorrow, depending on the weather.
The lifting of the beams is the next "exciting" stage of the city's long-awaited £55million West Link project.
By 2020, motorists should be able to travel from the A96 Aberdeen road and A9 Perth route, along the southern distributor road to the A82 Fort William road, via a new bridge over the River Ness and a swing bridge over the Caledonian Canal.
It is hoped the completion of the congestion-busting bypass will take thousands of vehicles out of the city centre.
Colin Howell, Highland Council's head of infrastructure, said members of the public would soon see the bridge take shape.
"In the next couple of weeks we will see all the beams going in over the river and it will be a great step forward," he said.
There are six beams in total and they will be lifted in pairs for stability, with the beams each comprised of three sections.
The crane is currently located on the south of the river and after the first three lifts, it will be taken apart and moved to the north side, and then the central section will be lifted into place.
A trial lift was carried out on Monday night, but was then postponed after the wind picked up.
Once in place, the contractors will quickly move to cast the concrete to provide the bridge deck and containment barrier.
The progress on the project emerged just days after Tulloch Homes unveiled a £250million vision to build 800 homes on land at Ness-side which is to be opened up by the West Link.
According to the masterplan, the homes – 200 of them affordable – will be built over the next 10 years to help tackle the city's housing shortfall.
A planning application will be lodged with Highland Council in April, and work could start on the first phase of 50 affordable homes by the middle of next year.