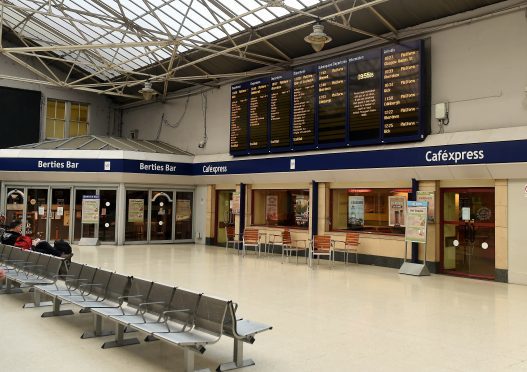 A hawk called Romeo has been brought in to scare off gulls and pigeons from Inverness railway station in the Highlands.
The Harris hawk, was flown over the station's platforms by its handler today – and at two other times this week.
ScotRail Alliance said the hawk is only needed occasionally as a few visits are enough to affect the behaviour of the other birds for several months.
Gulls and pigeons are regarded as pests at the station.
Laura Cook, conductor team manager for Inverness Station, said: "It's great to see Romeo spreading his wings across the station.
"We used to have issues with pigeons and gulls, lots of them like to roost in the station, and one even stole a sandwich off a trolley.
"Since he's arrived, the other birds are keeping well away."
Romeo's handler, falconer Julia Suthers, added: "Hawks are a natural predator, so the other birds flee when they see him.
"Pigeons and gulls like to nest in places like station roofs, but they definitely won't if they associate the area with danger.
"Romeo has settled into the station really well and he's getting lots of attention, which he loves."