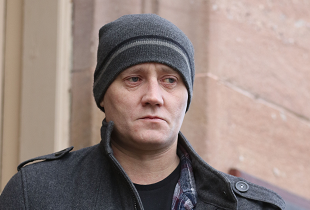 A drunk driver who broke his neck in a crash at the end of a "catalogue of disasters" during a 21-mile drive home has been jailed for four months.
Bruce Urquhart crashed into one car and forced several drivers to get out of his way as he drifted onto the wrong carriageway before narrowly missing a bus and crashing into a tree, seriously injuring himself.
Sheriff Gordon Fleetwood said he "listened in horror" as Urquhart's nightmarish journey on the A9 from Inverness to Alness unfolded in the city's sheriff court.
Swaying between lanes of a dual carriageway section of the A9 north from Inverness to his home in Robertson Court, the 39-year-old first crashed into a car.
Then vehicles coming in the opposite direction had to do emergency stops to avoid a head-on collision as Urquhart drifted on to the wrong carriageway.
He then mounted a grass verge, narrowly missing a bus coming towards him before swerving to avoid wall, demolishing a road sign and crashing into a tree.
Urquhart suffered a broken neck and a brain injury as a result.
Yesterday, the father-of-two – who had earlier admitted driving while almost three times the legal limit and a charge of dangerous driving – was jailed and banned from driving for two years.
At a previous hearing, fiscal depute Robert Weir told the Sheriff Gordon the near-misses and collisions in which Urquhart was involved on September 14.
"It was about 4,20pm when he was seen driving and swaying between lanes. As he approached the Munlochy junction on the A9, his driving became more erratic.
"A member of the public was so concerned that he called the police and then adjusted his planned route to follow Urquhart.
"It was further reported that Urquhart's car was in collision with another vehicle and then continued towards the Evanton area.
"He twice tried to overtake when it was not safe to do so and vehicles coming in the opposite direction had to come to a standstill to avoid colliding with him.
"His vehicle then travelled along the wrong carriageway to exit the A9 at Evanton. There were several near misses involving oncoming traffic before he mounted the grass verge.
"He continued his journey and narrowly missed hitting a bus as he headed towards Alness, continuing to hit verges. Large clumps of grass were attached to his front grill.
"He then avoided colliding with a wall, hit a road sign and came to rest against a tree, causing extensive damage to his vehicle and injury to himself.
"Police arrived on scene but he was incoherent and unable to give his name. Because his welfare was the priority, he was taken to Raigmore Hospital where a blood sample was taken about 8pm."
Defence lawyer Alison Foggo said: "This arose out of significant alcohol consumption which was at such a level he has no memory of his driving.
"He is at a loss to explain why he didn't take a bus home as he had planned to do. He has pleaded guilty with great shame and is grateful no-one else apart from himself was injured.
"But he accepts he put many people at great risk."