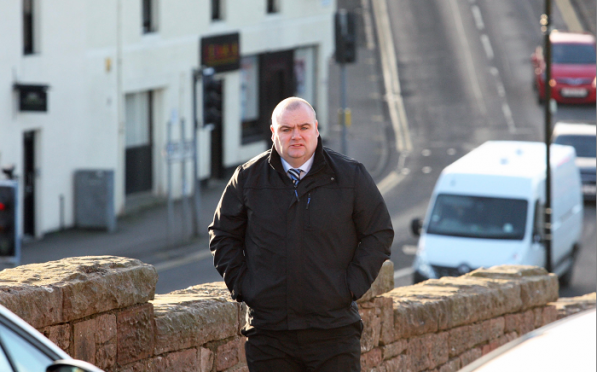 A Sheriff has demanded written explanations from one of Scotland's top legal firms and the Crown Office after a series of blunders led to the wrong details being given to her about a corrupt prison officer.
Sheriff Margaret Neilson then recused herself from sentencing 35-year-old John Wallace of Nethybridge and asked another Sheriff to listen to the case from the beginning.
Yesterday, Inverness Sheriff Court heard that the incorrect details of Wallace's drug and mobile phone smuggling into Inverness Prison between October 2015 and March 2016 were read out in court by fiscal depute Michelle Molley on February 7.
But the Sheriff was told that it was not the fault of Ms Molley or her colleagues in the Inverness office.
She had prepared a written narrative which was approved by Wallace's solicitor in court, David Fitzpatrick that day, not knowing that an earlier one had been agreed with his firm, Beltrami and company, beforehand.
It transpired that no-one in the Crown Office had told the Inverness office that one had been agreed. A second blunder was also revealed by fiscal depute Roderick Urquhart.
He told the court that no-one in his office had been told of the original or where to find it on their computer system.
"It took me three attempts before I found out." he told the Sheriff. "My colleague was not informed there was already an agreed narrative and spent some time preparing one.
"It seems that neither me or my colleague were adequately briefed. My information is that my colleague showed her narrative to the solicitor in court."
Wallace's solicitor advocate Arfun Dar Dar did not ask the Sheriff to recuse herself and confessed: "In my experience, I have never come across a situation like this before. My firm has not covered itself in glory.
"It has clearly been misreported as there are 20 errors in it and three of them are potentially prejudicial."
Sheriff Neilson then corrected Mr Dar. "To be fair to the press, it was not misreported. They reported what was said."
She added: "It does seem extraordinary. There is the issue of the Crown Office but there is also the issue of your colleague who listened to the wrong one in court and did nothing."
Recusing herself, Sheriff Neilson said: "I find the situation unfathomable and I don't understand why it happened.
"I am asking for full written explanations from the COPFS and from your firm why matters were not spotted on February 7.
"In view of your client's concerns, although I am a professional judge, I feel it appropriate that I recuse myself."