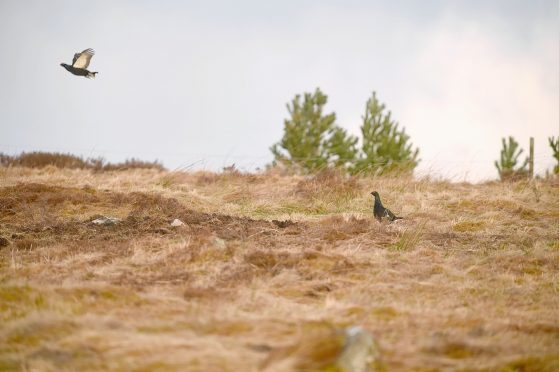 Preening males were all aflutter yesterday, as a female chose the perfect moment to fly over the show.
The black grouse were in the midst of a stunning sunrise display in the Highlands as a precursor to an imminent breeding season of the coveted species.
RSPB Scotland's Corrimony reserve, at Glen Affric near Beauly, was the scene of the lek, wan area where birds gather to perform their courtship rituals.
A strong resurgence of the rare black and red favourites has been hailed a "celebration" by the charity while other species have struggled to cope with the impacts of habitat loss and overgrazing.
The sound alone is a treat for bird lovers – described as "an insane giggle" by reserve manager Simon McLaughlin.
Male black grouse are distinctive, with red wattle over the eye and showing a striking white stripe along each wing in flight.
Mr McLaughlin said: "It's a good time to see the birds because they're looking pretty good. They're gearing up for the breeding system and it's not too early in the morning to see them.
"This morning, we had six males on the lek, hopping about, trying to attract females.
"We're just coming up to the breeding season and they're trying to estbalish their pecking order, if you'll excuse the pun.
"There will be a dominant male or two who have the privilege of breeding with the females that visit the lek during April and May. We had a glimpse of a female flying over at one point, which had the males excited."
The species remains on the "red list" of endangered species.
The charity has, however, had a positive impact through its own land management measures.
There were 16 lekking males in 1997, when it bought the reserve. The numbers have since trebled thanks to tree planting and reduction in deer numbers.
The RSPB's advice is that observing their activity from a distance, by stationary car, is not intrusive.
Eagle Brae holiday lets, at Stuy near Beauly, are among private operators who offer guests black grouse safaris between November and May.