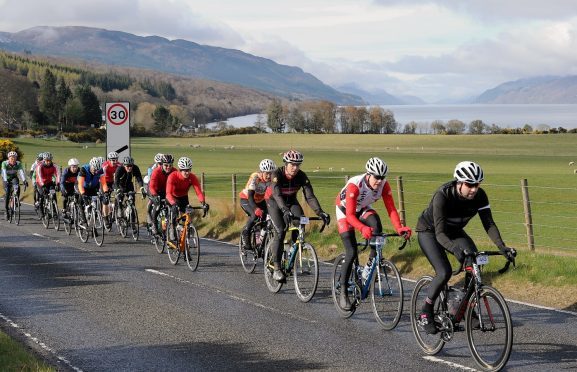 More than 5,000 cyclists are limbering up for an annual event lapping Loch Ness.
It is the fourth year of the Etape Loch Ness, which is now one of the most popular events on the Scottish cycling calendar.
Around 5,200 cyclists will take on the 66 mile route on Sunday, starting in Inverness before looping heading south down the A82 before returning up the other shore of the loch via Dores.
Among the challenges on course is the "King of the Mountain" section – which sees the cyclists climb more than 1,200ft in just 4.8 miles as the road ascends out of Fort Augustus.
Event director Malcolm Sutherland said: "This year's Etape Loch Ness is the biggest yet, and we're thrilled that so many cyclists will be arriving this weekend to see for themselves what the Highlands has to offer the cycling community.
"Sportives have become incredibly popular in recent years, allowing cyclists to compete not against each other but with themselves – attempting to top their past achievements. Couple that with the draw of Loch Ness and enjoying some of the most stunning scenery in the country on traffic-free roads, and it becomes easy to see the appeal of participating.
"Inverness will be abuzz with excitement and anticipation over the weekend, and we hope that the public will once again venture out to cheer on the participants, in the villages along the route and at the finish line at Eden Court Theatre on the River Ness."
The first wave of riders is due to set off on Sunday morning at 6.15am from Bught Park in the Highland capital.
The fastest riders home are expected to cross the finishing line at Eden Court from 9am onwards, with the majority of riders arriving home before 1pm.
Throughout the weekend, some roads in the Inverness and Loch Ness area will be closed temporarily to ensure the safety of the cyclists and other road users.