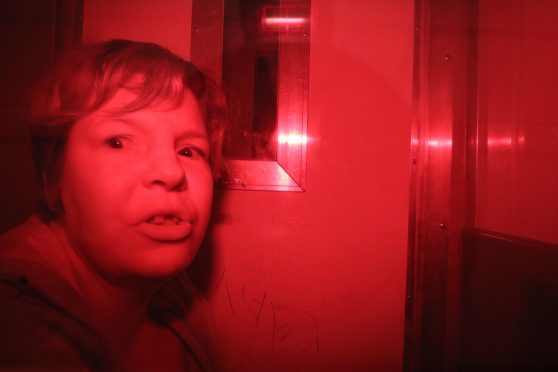 A seven-year-old boy is still having nightmares after a woman tried to abduct him in a busy bus station.
The parents of the youngster said their son was "traumatised" by 47-year-old Deborah Moulsdale trying to lead him away on April 7 in Inverness's Farraline Park.
His mother told a trial: "I am having a horrendous time with him throughout the night. He can't sleep."
The boy's father added: "We have to calm him down for five minutes before going to bed and reassure him there is nobody bad in the house because he is frightened someone will take him away."
Moulsdale denied at Inverness Sheriff Court attempting to abduct the schoolboy by seizing him by the body and leading him away from his mother and others.
Moulsdale also pleaded not guilty to assaulting the mother by kicking her and striking her on the body to her injury when she intervened.
After the evidence of the parents, and hearing from Moulsdale herself, Sheriff Gordon Fleetwood convicted her and jailed her for six months, backdated to April 10.
He told Moulsdale, who admitted a long list of previous convictions: "I note that the psychiatric and psychological report discloses she has difficulties, but she is not insane.
"But this offence, compared to her record, is in a whole new category."
Moulsdale's lawyer, John MacColl told the Sheriff: "This was a spontaneous act of madness while she was disinhibited by alcohol and the psychological condition from which she suffers."
The trial heard that the boy was accompanied by his siblings, his mother, her friend and her child when they went into the bus station.
The mother told the court: "I had just gone to change the baby's nappy and the other kids were playing near a door. She (Moulsdale) was sitting on the pavement with men and I would say she was drunk.
"She went up to the children and I heard her say: 'Whose children are you? Where did you come from?" The children came over to me, followed by her and she grabbed my son's arm and said: 'You have too many kids. I am taking him.'
"She took about three steps with him and I swore at her and told her to take her hands off my child. Then she kicked me and hit me with a half punch, half slap. I had a bruise on my chest for about three weeks.
"The bus drivers heard the commotion and ushered all of us into the tearoom."
Moulsdale told the court that the incidents never happened. "I would never snatch a kid." she said.