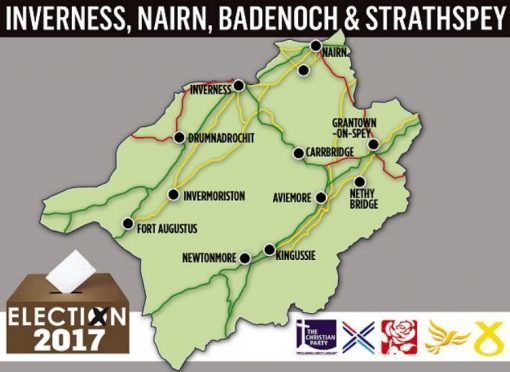 Inverness, widely known as the Highland Capital, is an economic success story, boasting more growth than anywhere else in Scotland in recent years, both in terms of population and prosperity.
A thriving university campus has contributed to the city having significantly higher numbers of people educated to degree level than the Scottish average.
Although traditional industry has had its day, there has been a shift towards the city being a hub for medical technology with high numbers of voters working in the health sector.
The Centre for Health Science has attracted an increase in medical device business to the area, bolstered by Raigmore Hospital's reputation as a teaching hospital for Aberdeen and Stirling universities.
But all the main parties have health policies which could be potentially attractive to this tranche of voters.
The SNP's 10-year stint in government and investment in setting up the Centre for Health, alongside their continued commitment to free prescriptions and free eye and dental checks gives a solid foundation for some in the health sector.
Labour's decision to campaign as the party of the NHS and to end the NHS staff pay freeze could see votes going in their direction from public sector workers.
The Lib Dems' pledge to put a penny on income tax to pay for vastly improved mental health services and take some of the strain off other parts of the NHS, is likely to look good to middle-class voters in particular.
Equally, the Conservatives' efforts to encourage business innovation and dedication to lower taxes might win over some entrepreneurs.
But Inverness is currently the SNP's to lose.
The city constituency changed hands in 2015, when the SNP's Drew Hendry beat Lib Dem Danny Alexander into second place with a majority of nearly 11,000 votes.
Mr Alexander had enjoyed a comfortable majority of nearly 9,000 with Labour in second place and the SNP third in 2010.
That had grown from Mr Alexander's 4,000 majority over Labour in 2005, with the SNP in third place with only a third of the Lib Dem vote share.
Prior to that, the constituency had different boundaries and had been Labour, but the party's vote share has steadily diminished over the last 12 years.
Labour's Mike Robb is a well-known candidate, having stood in the constituency since 2010, which should help boost his chances.
Donald MacLeod Boyd has also stood for the Scottish Christian Party since 2010, but has not yet managed to gain the 5% vote share in any election to keep his deposit.
On paper, the biggest challenge would seem to come from the Lib Dems, although their candidate Ritchie Cunningham has not stood for the Westminster seat before.
A 53% vote against Scottish independence and a 56% against Brexit could also bode well for Mr Cunningham's chances.
However, there was little sign of Lib Dem campaigning around the centre of Inverness earlier this month in terms of posters.
SNP candidate Drew Hendry had posters in the city and Labour's Mike Robb had placards along the main city roads and around the Crown.
Only Conservative Nick Tulloch seemed to have put them up in both the well-to-do Crown area of town and the less well-off Ferry area.
In full: The candidates
Drew Hendry, 53, SNP, politician
Mike Robb, 61, Labour, IT consultant
Nicholas Tulloch, 44, Conservatives, financial advisor and qualified solicitor
Ritchie Cunningham, Liberal Democrat, former head teacher
Donald MacLeod Boyd, 62, Scottish Christian Party, retired doctor
2015:Inverness result flashback
Drew Hendry, SNP: 28,838
Danny Alexander, Liberal Democrats: 18,029
Mike Robb, Labour: 4,311
Edward Mountain, Conservative: 3,410
Isla O'Reilly, Scottish Green: 1,367
Les Durance, UKIP: 1,236
Donald Boyd, Scottish Christian: 422