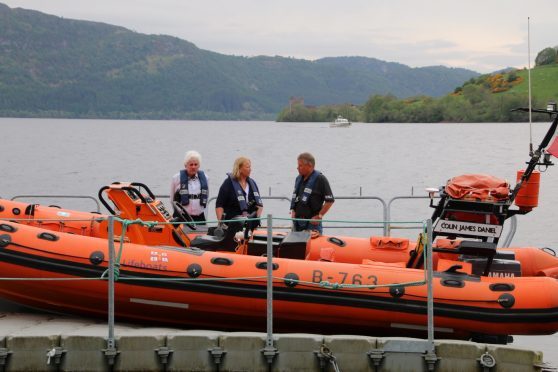 A widow has visited Loch Ness to reacquaint herself with a lifeboat named in memory of her late husband.
When called out on service, the loch's volunteer RNLI crew set out on their B class Atlantic 75 inshore lifeboat the Colin James Daniel.
The craft is named in memory of the late husband of Brenda Daniel, who organised a bequest in tribute to Mr Daniel after his death in 1999.
Mrs Daniel and her daughters closely followed progress of construction of the boat at the RNLI inshore centre at Cowes on the Isle of Wight.
The lifeboat was initially put into service at the RNLI Atlantic College in Glamrogan.
Mrs Daniel was present for its first launch in 2000 and visited several times, even taking part in a training exercise.
She was also present when the boat left Wales in 2013.
But she had never visited the boat at its current base in Loch Ness – until this week.
Intending to come to Scotland this year, Mrs Daniel chose to holiday on a cruise ship which departed Greenock on the day of her late husband's birthday, and stopped for a full day at Invergordon, allowing her shore time to visit Loch Ness.
The volunteer crew' senior helmsman Garry MacLeod took the opportunity to present Mrs. Daniel with a glass engraving of the lifeboat on Loch Ness.
He said: "With the new Loch Ness lifeboat station currently under construction, and a new lifeboat due later this year, it was a timely opportunity for Brenda to see her special boat in service."
The Colin James Daniel is one of the last Atlantic 75 boats currently in service in the UK.
Loch Ness volunteer crew and lifeboat launched 25 times
during 2016 rescuing people in trouble on the famous waterway and saving lives.
Loch Ness is the only inland lifeboat station on the UK mainland and has been in service since 2008.