Police are speaking to head teachers across Inverness after a primary pupil was caught in school with a knife.
The Press and Journal revealed yesterday that the boy was found in possession of the weapon at the school on Tuesday.
Police confirmed officers had dealt with the incident and said that nobody was injured.
Police called in after schoolboy threatened staff and pupils with knife
Officers are now contacting schools across the Inverness area to provide guidance and reassurance to staff and pupils.
A police spokeswoman said: "Community officers regularly give awareness talks in schools and continually liaise with primary and secondary schools to address any concerns they have.
"Following this incident officers are speaking to head teachers to provide advice, guidance and reassurance as required to staff and pupils.
"In addition the Police Scotland youth volunteers are also planning to deliver a 'No Knives, Better Lives' presentation to their peer group over the next few months to raise awareness of this subject."
The No Knives, Better Lives campaign is an initiative set up by the Scottish Government to challenge attitudes to carrying and using bladed weapons.
It was initially run across 11 local authorities in the central belt but has since gone nationwide.
Highlands MSP John Finnie, a former police officer and the Scottish Greens' justice spokesman, said the incident was "concerning" and backed efforts to raise awareness of the dangers of knives in schools.
He said: "Fortunately incidents of this kind are very rare in the Highlands and islands and long may that continue.
"However, I know that any instance of a knife being carried to school by a pupil is very concerning.
"I commend the practice of educating young children about the danger of knives."
Mr Finnie also gave his backing to the No Knives, Better Lives programme and said he would "encourage" its use.
Police confirmed following Tuesday's incident that the child involved had been "referred to the appropriate authorities".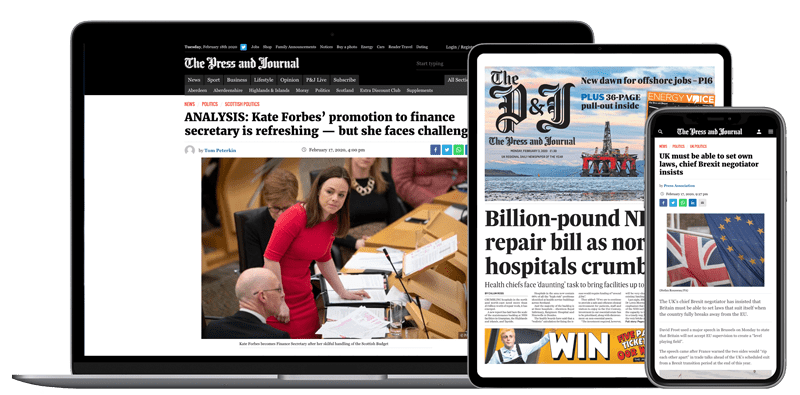 Help support quality local journalism … become a digital subscriber to The Press and Journal
For as little as £5.99 a month you can access all of our content, including Premium articles.
Subscribe